Im Readin Ur Blogz
August 22, 2019
Passport photos are subject to an extensive list of guidelines and restrictions — for instance, the background has to be "plain white or off-white" with no pattern, you can't wear glasses or hats, and the photo must be tightly cropped on your face. Max Siedentopf's Passport Photos project imagines what might have been going on outside of that carefully controlled frame when the photos were taken. (via colossal)
Tags:
art
Max Siedentopf
photography
by Jason Kottke at August 22, 2019 08:17 PM
Most of us have that One Thing on our task list that is the most important thing on the list, that would be the most meaningful … and yet we're not doing it.
The One Thing is so meaningful and important that it brings up a ton of uncertainty for us, and causes us to avoid, run, distract, comfort, procrastinate. It's an old habitual pattern.
So how do we deal with this uncertainty and habitual avoidance?
I've been working on a 3-step method for this, very simple and it improves with practice.
So here's the simple (not always easy) method:
Create a space. Put aside all the messages, social media, distractions, smaller tasks, organizing and tidying, checking on one more thing. Instead, have a small space (even just 10-15 minutes) for this important task, and nothing else. You can do it now: set aside the next 15 minutes for this task, and tell yourself this is the only thing you'll do for the next 15 minutes. It's that easy.
Meditate on meaning & feelings. For just a minute, mindfully drop into your body and feel your fear, resistance, frustration, overwhelm. Let yourself feel it fully. Then let yourself feel the love you feel for those who you'll be serving by doing this task. Do they matter to you? (It might be you, loved ones, customers, a team, the world, etc.) Let yourself fully feel what you feel for them, as if your heart were wide open. This step only has to take a minute or two.
Do the smallest next step. Now pick the smallest action you can take to get the ball rolling with your meaningful task. If you have a paper to write, can you just focus on writing a few paragraphs? If you have to do your taxes, can you just get your documents together? If you have to organize your house, can you just organize one drawer? Get moving, translating your love into a small action.
And repeat. It's that simple! With this method, you'll connect to the deeper reason you want to do the task, along with the fears that are coming up for you that are making you run from the task. With this connection, you'll be much more able to move into it.
Once you are ready to move into the task, picking the smallest next step (instead of a huge step) allows you to move in with a lot more ease, and get the ball rolling. Then you can do the next small step after that … or throw in another short meditation to feel connected again.
Over and over, this method helps with your meaningful tasks, your One Thing that you've been wanting to do but dreading and putting off.
I wrote this post using the method, with love for all of you.
by zenhabits at August 22, 2019 07:00 PM
In this fun BMX video, Tate Roskelley uses all sorts of props — car tires, milk crates, trees, tennis balls — to perform all kinds of street tricks and stunts. Watch until the end…his last maneuver is probably the best. (thx, matt)
Tags:
cycling
Tate Roskelley
video
by Jason Kottke at August 22, 2019 06:17 PM
From the folks that produced the NYC Transit Authority Graphics Standards Manual and the NASA Standards Manual comes a new book, Parks, about the art, maps, and printed materials produced to support American's national parks.
From the book's introduction by Lyz Nagan-Powell:
If, as Wallace Stegner famously declared, the national parks are "America's best idea," how can we explore this idea? There is the historical aspect: America invented the concept of nationally owned and operated parks in 1872, when Ulysses S. Grant signed Yellowstone National Park into existence. But there is more to Stegner's sentiment than just the invention of the parks. The rest of the quote goes on to say that the parks are "Absolutely American, absolutely democratic, they reflect us at our best rather than our worst."

The national parks story isn't simple or easy. It's full of splendor and glory, as well as greed and exploitation. For every person who loves one of the parks like it's their own home, there is another who resents the federal government for owning it. Even before Yellowstone became the first national park, park history was fraught with tension. Tension between preservation and use, between indigenous people and white explorers, between local rights and federal oversight, between wild freedom and human control, between park purists and park recreationists, and between commercial exploitation and historic value.

With this tense backdrop, or maybe because of it, art, imagery, writing, and design have played a vital role in the history of the national parks. Compelling creative materials that celebrated the land — including books, paintings, performances, and advertisements — have marked developments and milestones. These items have brought the rich landscapes and their scientific and historical significance to life.

Perhaps together, the tension and celebration make the National Park System - parks, monuments, natural areas, historic sites, and more - the perfect embodiment of America itself, and what the "best idea" of the parks is really all about.
Parks is out in October but you can pre-order it now.
Tags:
books
design
Parks
by Jason Kottke at August 22, 2019 04:15 PM
In the 1960s, Haddon Salt built up a small empire of fish & chips shops in North America — they eventually had more than 500 stores. That attracted the attention of Kentucky Fried Chicken, then flush with cash after their IPO. And then…
An initial Google search revealed that this shop was the last gasp of a once-sprawling fish-and-chips empire with hundreds of locations that started with an immigrant's secret family recipe, flourished into an eight-figure deal with Colonel Sanders and ended in collapse.

It took several years and the research help of friends to track down Mr. Salt. We found him in a remote retirement community in Southern California's desert. The rest you can see in the film before you.

For every icon there are those who were almost famous. And perhaps they, even more than their conqueror, have the lessons we need to hear.
See also when Colonel Sanders badmouthing KFC: For the Colonel, It Was Finger-Lickin' Bad.
Tags:
Ben Proudfoot
business
food
Haddon Salt
restaurants
video
by Jason Kottke at August 22, 2019 01:58 PM
August 20, 2019
Le Corbuffet was a series of performances by artist Esther Choi that sought to bring together food with notable artists and designers, along with a healthy dose of puns. A cookbook based on the project will be out in October: Le Corbuffet: Edible Art and Design Classics. Here's the page for Quiche Haring:
Other dishes include Rhubarbara Kruger Compote, Shigeru Banchan Two Ways, Yokonomiyaki, Rem Brûlée, and the Robert Rauschenburger. Here's the full menu/table of contents:
Says Choi about where the idea for the project came from:
In 2014, I stumbled across an elaborate menu crafted by László Moholy-Nagy. The multi-panelled bill of fare was for a dinner held in tribute to the Bauhaus founder and architect, Walter Gropius, in 1937. Inspired by the menu for Gropius's dinner, and the questions that it raised about the elitism of cultural production, I decided to conduct a social experiment a year later.
Tags:
art
books
design
Esther Choi
food
Le Corbuffet
by Jason Kottke at August 20, 2019 09:48 PM
The music video for Anna Meredith's latest song, Paramour, is a single-take journey of a toy Lego train through a group of musicians playing cellos, drums, and tubas, from the perspective of a camera mounted on the front of the train. This has some definite Star Guitar + Wallace & Gromit vibes. (via colossal)
Tags:
Anna Meredith
Legos
music
video
by Jason Kottke at August 20, 2019 08:04 PM
There's a strange contradiction in most of our lives:
We deeply feel the messiness of our lives. We feel it in all areas of our lives, which stresses us out and causes us to shut down, feel overwhelmed, run to distraction and comforts. It creates tremendous uncertainty for us.
But …
We resist sticking to structure and routine. We want to have a great order to our lives, but when it comes to actually following it, we struggle. It feels too rigid, too constricting. So we immediately toss the plan aside and start free-forming it, answering messages and going to distractions and reading or watching things online. This creates even more uncertainty, not being able to stick to structure.
This contradiction might not be universal, but it's present for a lot of people. I would guess that a majority of people reading this feel a struggle between these two things.
Now, I don't think you can get control and order over everything in your life — life is inherently messy and uncertain, and all attempts to make it ordered and certain are fundamentally futile. It's often more helpful to practice mindfully with the uncertainty rather than try to control it.
That said, this is not an all-or-nothing choice. We can create structure and practice with uncertainty. We can even create structure for our uncertainty practice. And we can learn to be unattached to the structure, so that if we have to do a day or week without it, we can be perfectly OK.
Two Reasons to Create Structure
There are two major (interrelated) effects that we feel from this struggle with structure and messiness:
The messiness of our lives causes us to be messy. When we have a huge mess around us, it's hard to be impeccable. It's hard to be focused. It's hard to really put our best effort into our meaningful work. We are greatly affected by everything around us, and by any kind of messiness in our lives. That doesn't mean we should strive for perfection, but instead that we should recognize the effects of this messiness on us.
Lack of structure creates a lack of trustability. When our lives are completely unstructured and messy, it's hard for others to trust us. If you were to go into business with someone whose office and life were a huge mess, vs. someone whose office and life seemed to be in impeccable order … all other things being equal, who would you choose? This messiness is felt by our spouses or partners, felt by friends and other loved ones, felt by our colleagues and bosses, felt by our clients, even if they can't completely see it. And we feel it ourselves, and it erodes our trust in ourselves.
None of this is reason to freak out or beat yourself up. It's just bringing awareness to the effects of lack of structure. And maybe resolving to create more impeccable structure with time.
Creating Impeccable Structure
Once we've resolved to create structure in our lives, it's important to recognize that this is a process, not a destination. You never do it and then are done with it — it's an ongoing process.
What does that process look like? Here's what I do:
Recognize when a part of my life is messy and could use more structure. I list some of those areas below, but the important thing is to notice the feeling of messiness in an area, and resolve to try to create better structure.
Contemplate a structure that would give you a feeling of trust. For example, if you are not staying on top of your emails, you could create a structure as simple as, "Check email at 10am, 1pm and 5pm only, and process each email out of the inbox to empty, or as close to empty as possible in 20 minutes." If this would make you feel a sense of trust that emails would be taken care of, it's a good structure. You may need to test it out (see below). Take a little time, disconnected and in solitude, to contemplate this structure.
Write out the structure, then put it somewhere you'll see it. Once you've give it some contemplation, actually write it down — either on paper or in a text document. Make sure it's somewhere you'll see it when you need it. If you write it down and then forget it, it's of no use.
Put it into action, as a practice. This is the key step — actually test out the structure by using it. See if it works. See if it makes you feel a sense of trust. See where the flaws are, and adjust as needed. Do this structure not as a chore, but as a practice, seeing if you can relax into it, surrender to it.
Revisit and revise on a regular basis. Even if the structure is good, you're not done. It's like a machine, humming along — eventually it will break. It needs maintenance. You need to adjust as your life changes and you change. You'll need to make it more impeccable when your life demands it. Every month or two, revisit and revise. At the very least, revisit every 6 months (set reminders in your calendar).
I'm constantly revisiting my structures, and revising them, especially when I feel it's needed.
Examples of Structure
Some areas of your life that might be messy and in need of structure:
Daily structure. How do you want to structure your day? It doesn't have to be super planned out and rigid, but you might have something simple … for example: a simple morning routine, then a block for important tasks in the morning, email, important tasks, admin tasks, email, work closing routine, exercise, meditation, evening routine. For others, a more detailed structure might be important. For others, an even looser structure might be better. Or one that is different on different days.
Financial structure. How do you stay on top of your finances? Create a system so that you are tracking your spending on a regular basis, and have a plan for how to spend it.
Communication. How are you handling email and messages? You might carve out time in your regular schedule so that you're on top of email and messages, without being overwhelmed by it or doing it all day long.
Relationship(s). How are you working on your relationship? Do you have regular dates or time you spend each day together? Do you have counseling or getaways to focus on you as a couple? Maybe you're not in a relationship — how do you stay in touch with your closest friends and family? How do you make sure you stay close to them, or go even deeper?
Health. How will you stay active? What will you eat to give yourself a thriving healthy life? How will you stay on top of both of these areas?
Household & personal maintenance. How does the laundry get done? Groceries and menu? Cleaning the house? Taking care of yourself (grooming, etc.)?
Physical surroundings. How messy is your house, your office? Is it cluttered? How does all of this affect your mental state?
These are some important examples, but you might have other areas in your life that feel messy. Wherever you'd like to feel more trust and order, that's a place to contemplate & write out some structure.
Practicing with Uncertainty Within and Without the Structure
Once we've created the structure, there are two ways to practice with it:
Working with the uncertainty & resistance of having structure. If you feel yourself rebelling against having structure, you can practice with the uncertainty of that.
Working with the uncertainty when we're not in the structure. You won't always be able to stay within your structure — some days will go sideways, other things will come up. In those times, you can practice with the uncertainty of not being in your structure.
Let's first talk about working with resistance to having structure.
Resistance to having structure: When you set up a structure for yourself, it might sound nice … but then when it comes time to actually doing it, you might feel constricted. You might feel uncertainty about whether you can do it or if it's the right structure. Or if you should be doing something else instead. This is uncertainty & resistance of having the structure itself.
This is actually perfect! The structure, instead of eliminating uncertainty from your life, gives you a space to practice with the uncertainty. Instead of letting yourself flop all over the place (without structure), you're asking yourself to courageously confront your discomfort and uncertainty.
The practice is to stay in the discomfort of having structure, and play with it. Feel the resistance, but don't run. Let yourself open up to the feeling, be immersed in it, be mindful of it in your body. And find a way to appreciate this space, be curious about it, grateful and even joyful in the middle of it. Then play with whatever you have set for yourself to do! Instead of running from the structure, relax into it. It's an amazing practice.
Uncertainty when we're not in the structure: If you are used to having structure, what happens when you can't use it? For example, maybe visitors come over and you can't do your regular routine? Or you travel, have a crisis at work, have a crisis at home, or have social functions to go to that disrupt your regular schedule and structure?
This is also perfect! It's an opportunity to practice letting go of the need for structure, and be present in the moment, deciding what's needed next.
For example, you might be traveling, and your structure is out the window … but you wake up and decide you still want to meditate, so you meditate for a few minutes in your hotel room. Then you decide you need to do a little work, and you do that before you head out for the day. You find a window at lunch time to catch up on messages. Before you go to bed, you find a window to do some writing. You are flowing, but not just letting everything go, you're finding focus and purpose in the middle of chaos.
The same could apply if you are in a crisis, have visitors, etc.
This doesn't mean it's better to have no structure — for most people, a default structure is going to be helpful, but it's not helpful to only be able to work and function when you have structure.
Adjusting & Learning with Structure
All of the above is great, but setting up structure once isn't a "set it and forget it" type of deal. You are going to work with this structure on an ongoing basis.
You will learn as you work with the structure whether it works for you, whether you have needs that aren't met by the structure, whether you forgot to include things.
For example:
A client created a schedule for himself but then discovered that he was very tired, because his structure didn't include enough time for rest. So he could adjust it so that he has a sign-off time to ensure he gets enough sleep. Or he could build an afternoon nap period into the structure.
Another client discovered that she was overloaded with too much on her task list. So she learned that it's better to pare down her expectations of how much she can get done.
I personally have found that the landscape of my day is constantly changing, not always very consistent. So I have a structure for when I have a wide-open day with only one or two meetings, but otherwise I create a structure at the beginning of the day depending on what I have going on that day … or I figure things out on the fly if my day is shifting during the day.
You might find that you need to move something to the morning to give it more focus. Or move exercise to the afternoon to conserve energy. Or have a different structure for different days.
The point is, you learn and adjust. It's an ongoing refinement. You can make it better and better, and more and more impeccable, with some care and attention.
Structure is worth the effort, because you can learn to relax into the structure. The people around you can trust you more, and relax into your structure as well. And the structure becomes a way to practice with the uncertainty, resistance and discomfort that inevitably arises in your life.
by zenhabits at August 20, 2019 07:30 PM
Li Ziqi is a woman who lives in Sichuan province in China with her grandmother, preparing food and making clothing from scratch without the use of modern technology (mostly). Her YouTube channel has more than 5.7 million subscribers. In this video, she makes a purple wool cloak for the winter:
Her practice of shooting the videos herself, her reliance on traditional techniques, and her editing style is strongly reminiscent of the Primitive Technology channel — her videos are meditative in the same way. I watched this video of her making jam this morning and was left both hungry and relaxed, an unusual combination:
(via @juririm)
Tags:
food
how to
Li Ziqi
video
by Jason Kottke at August 20, 2019 06:10 PM
Andy Bailey is a stop-motion animator at Laika who worked on Kubo and The Boxtrolls. In this video, he shares his process while making a 658-page flipbook called The Return of Grumpy Cloud that took him 35 work-days over three months to complete. The end result (skip ahead to ~14:25) is pretty impressive given the lo-fi medium. Bailey sells kits for making your own flipbooks, but the store was down for maintenance when I checked.
Tags:
Andy Bailey
animation
how to
stop motion
video
by Jason Kottke at August 20, 2019 04:06 PM
In 2016, Benjamin Grant published Overview, a book of high-definition satellite photos of the Earth that were drawn from his site, Daily Overview (also on Instagram). This fall, a version for younger readers is coming out: Overview, Young Explorer's Edition: A New Way of Seeing Earth.
When astronauts look down at our planet and see its vibrant surface shining against the blackness of space, they experience the Overview Effect — a sense of awe, an awareness that everything is interconnected, and an overwhelming desire to take care of our one and only home.
This is a no-brainer pre-order…my kids often pull Overview off the shelf just to look at the photos. I'm also adding this to the list of Adult Nonfiction Adapted for Younger Readers.
Tags:
Benjamin Grant
books
Overview
satellite imagery
by Jason Kottke at August 20, 2019 02:08 PM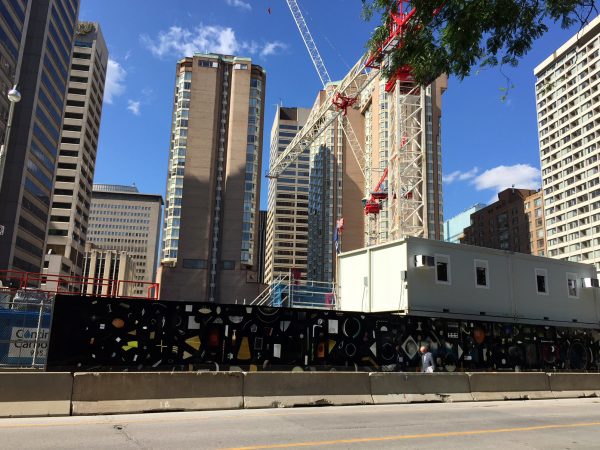 As readers of my column know, I am an avid promoter of site-specific artworks, and I'm not alone. The kinds of conversations we are having today about site-specificity first started with the rise of the minimalist art movement in the late 1960s and early 1970s. Since then, a slew of literature has been written on the subject, with the term itself becoming a mawkishly overused buzz word.
While site-specific artworks are generally understood as works of art that reflect the identity and characteristics of a given place, the particulars of what this definition actually means is up for debate. We may assume that qualities like geography, architecture, and commerce constitute some of the integral characteristics of a site, but these features can fluctuate in importance and take on different meanings for different people.
The passage of time can also drastically change the meaning of a certain place and the associating characteristics that define it. Can we, for example, consider an artwork's representation of history to be site-specific if its portrayal of events runs counter to a new perception or evaluation of the past?
Furthermore, will the site-specific art of "now" have any bearing on its locale in 50 or 100 years? If not, does that work still constitute a site-specific artwork by virtue of its already existing in that space? To make matters even more confusing, what even counts as a "site"? Is it physical or imagined? If it's the latter, is a site culturally constructed or purely subjective? My queries could go on and on…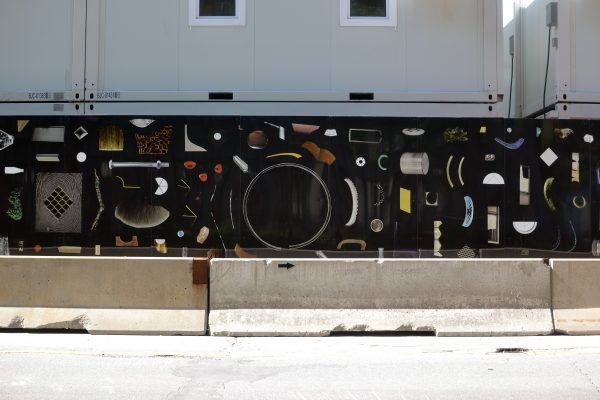 In her new work, Deep Times > Portals > Particles > & Pulls, collage artist Maggie Groat has addressed a number of the ambiguities regarding site-specificity and the philosophically fraught questions surrounding it. Commissioned by Infrastructure Ontario, Groat's piece is installed at the construction site of Toronto's new courthouse at 10 Armoury Street. In preparation for the construction, Infrastructure Ontario unearthed a wealth of archeological artifacts from when the site was known as "The Ward," a now forgotten Toronto neighbourhood that was once home to impoverished Canadian immigrants from countries like Ireland, pre-Civil War America, China, Russia and Italy.
With a black background that evokes a sense of the cosmos, Groat's mural reveals a myriad of images inspired by her time with the archeological findings and the history of the site. These objects, however, are not what you would necessarily expect to see. Most of the images are fragments of photographs or close-ups on the margins of images. The cut-and-paste effect highlights the juxtaposition between objects while simultaneously evoking connections between them.
When seen individually, the figures appear as if placed at random, mirroring the disparate assortment of objects uncovered when the artifacts were first found. But when viewed together, Groat's fragments give the impression of being assembled with the utmost precision, creating a strange sense of harmony within the piece. The collage is akin to found poetry — a kind of writing where supposedly random words and phrases (or in this case images) are brought together to create a new meaning through re-contextualization.
Distributed throughout the collage are what Groat describes as "imperfect portals" — large, broken circles that act as potential "entry points" into the piece's non-linear flow. While various objects at first appear to be rotating around these pivotal openings, the orbits slowly break apart as the images move further and further away from the spurious center (hence the phrase "portals, particles and pulls" in the work's title). For Groat, this repetition of shifting circles creates "a sense of momentum, of folding and unfolding, [evoking the] imperfect symmetry of history, past and present."
Groat isn't interested in providing a taxonomic description of the collage's images and the way in which they connect to the archeological findings. Instead, she would rather let people interpret or even create their own connections. One of the reasons for this is that Groat's archival-based collage looks to the future just as much as it does to the past. Instead of thinking about her piece in terms of centuries, Groat has conceptualized it in terms of millennia, using the artwork as a platform to conjecture about the potential futures of the site. These imagined futures not only create an opening for new histories, but also foster a novel sense of place in the present.
Groat's piece, then, collapses all of our contradictory definitions about site-specificity and condenses them into one work, thereby both validating and undermining our preconceived notions. By hypothesizing possible pasts, presents, and futures, Deep Times helps the viewer to envision various potentialities for the site, and in doing so makes those speculations a feature of the place itself. Rather than creating a site-specific artwork that seeks to bring forth the current, manifest characteristics of an area, Groat has instead created a work of art that is site-specific based on conjectures of what the site could be for the viewer.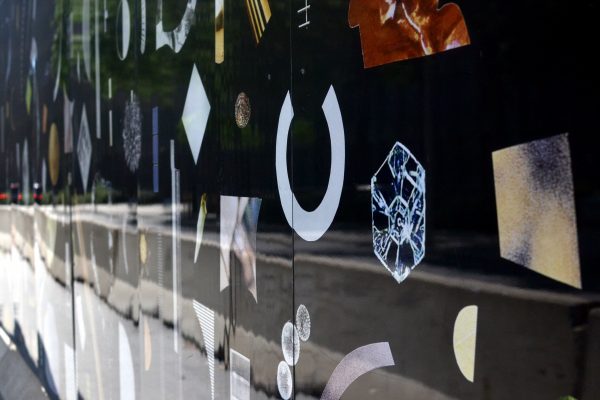 Because of her focus on potentiality, Groat's site is not fixed but is instead in a state of constant flux. While some artists argue that a site-specific work is inextricably linked to the location where it resides, Groat's collage allows for a more fluid, transient notion of site-specificity. This point is further emphasized by the fact that Groat's piece is only up for three years — the time during which the courthouse is under construction.
Some people may find this treatment of site-specificity too broad. If a site-specific artwork can comment on the potentialities of a place rather than the locale's present realities, then couldn't anything be considered site-specific?
The answer is "yes," but that is because anything can be site-specific. What was once considered unrelated to a site can eventually become an integral feature, just as what was once considered site-specific can eventually become anachronistic. This flexible definition is also in keeping with the layered and multifaceted nature of sites, especially those in cities.
Deep Times > Portals > Particles > & Pulls succeeds in actualizing these contradictions while still creating a work that contributes to place-making. Groat's collage not only allows us to break free from the dated, rigid notions of site-specificity, but also enables us to construct new places and identities.
What possible futures do you see?
Sarah Ratzlaff is Spacing's public art critic. Follow her on twitter at @ratzlaff_sarah
The post Time for public art: the New Toronto Courthouse construction site mural appeared first on Spacing Toronto.
by Sarah Ratzlaff at August 20, 2019 12:00 PM
I've never thought of myself as a "car person". The last new car I bought (and in fact, now that I think about it, the first new car I ever bought) was the quirky 1998 Ford Contour SVT. Since then we bought a VW station wagon in 2011 and a Honda minivan in 2012 for family transportation duties. That's it. Not exactly the stuff The Stig's dreams are made of.
The station wagon made sense for a family of three, but became something of a disappointment because it was purchased before — surprise! — we had twins. As Mark Twain once said:
Sufficient unto the day is one baby. As long as you are in your right mind don't you ever pray for twins. Twins amount to a permanent riot. And there ain't any real difference between triplets and an insurrection.
I'm here to tell you that a station wagon doesn't quite cut it as a permanent riot abatement tool. For that you need a full sized minivan.
I'm with Philip Greenspun. Like black socks and sandals, minivans are actually … kind of awesome? Don't believe all the SUV propaganda. Minivans are flat out superior vehicle command centers. Swagger wagons, really.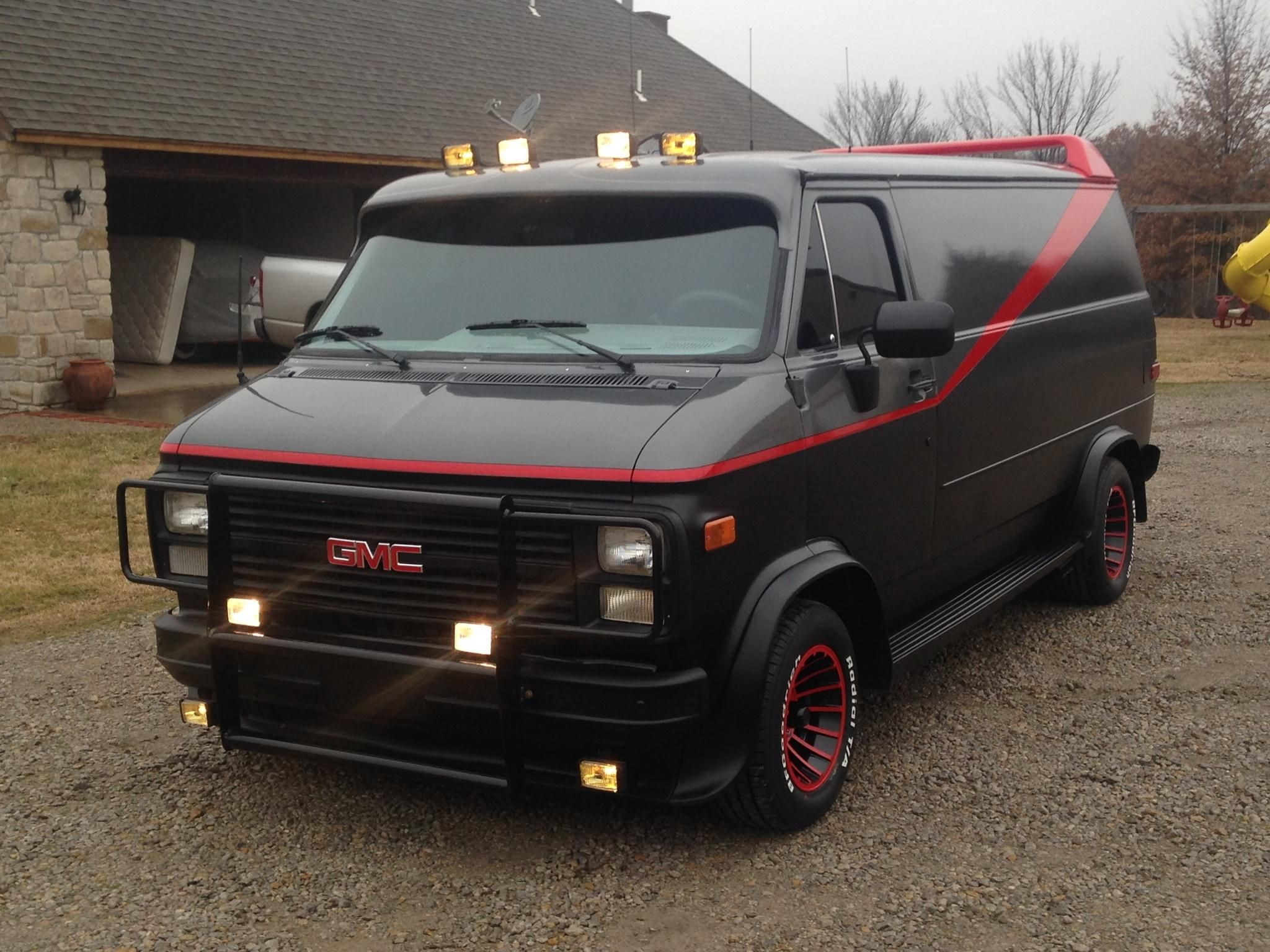 The A-Team drove a van, not a freakin' SUV. I rest my case.
After 7 years, the station wagon had to go. We initially looked at hybrids because, well, isn't that required in California at this point? But if you know me at all, you know I'm a boil the sea kinda guy at heart. I figure if you're going to flirt with partially electric cars, why not put aside these half measures and go all the way?
Do you remember that rapturous 2014 Oatmeal comic about the Tesla Model S? Even for a person who has basically zero interest in automobiles, it did sound really cool.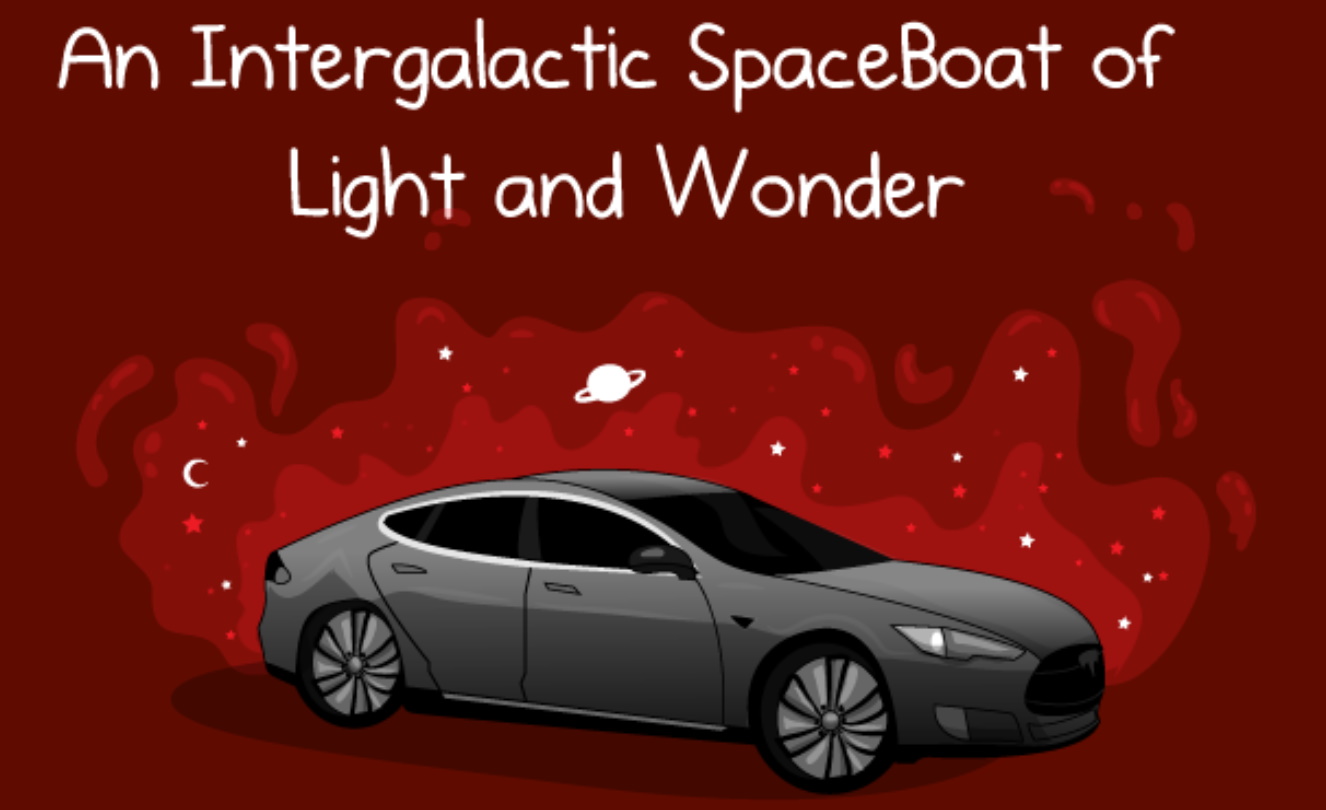 It's been 5 years, but from time to time I'd see some electric vehicle on the road and I'd think about that Intergalactic SpaceBoat of Light and Wonder. Maybe it's time for our family to jump on the electric car trend, too, and just late enough that we can avoid the bleeding edge and end up merely on the … leading edge?
That's why we're now the proud owners of a fully electric 2019 Kia Niro.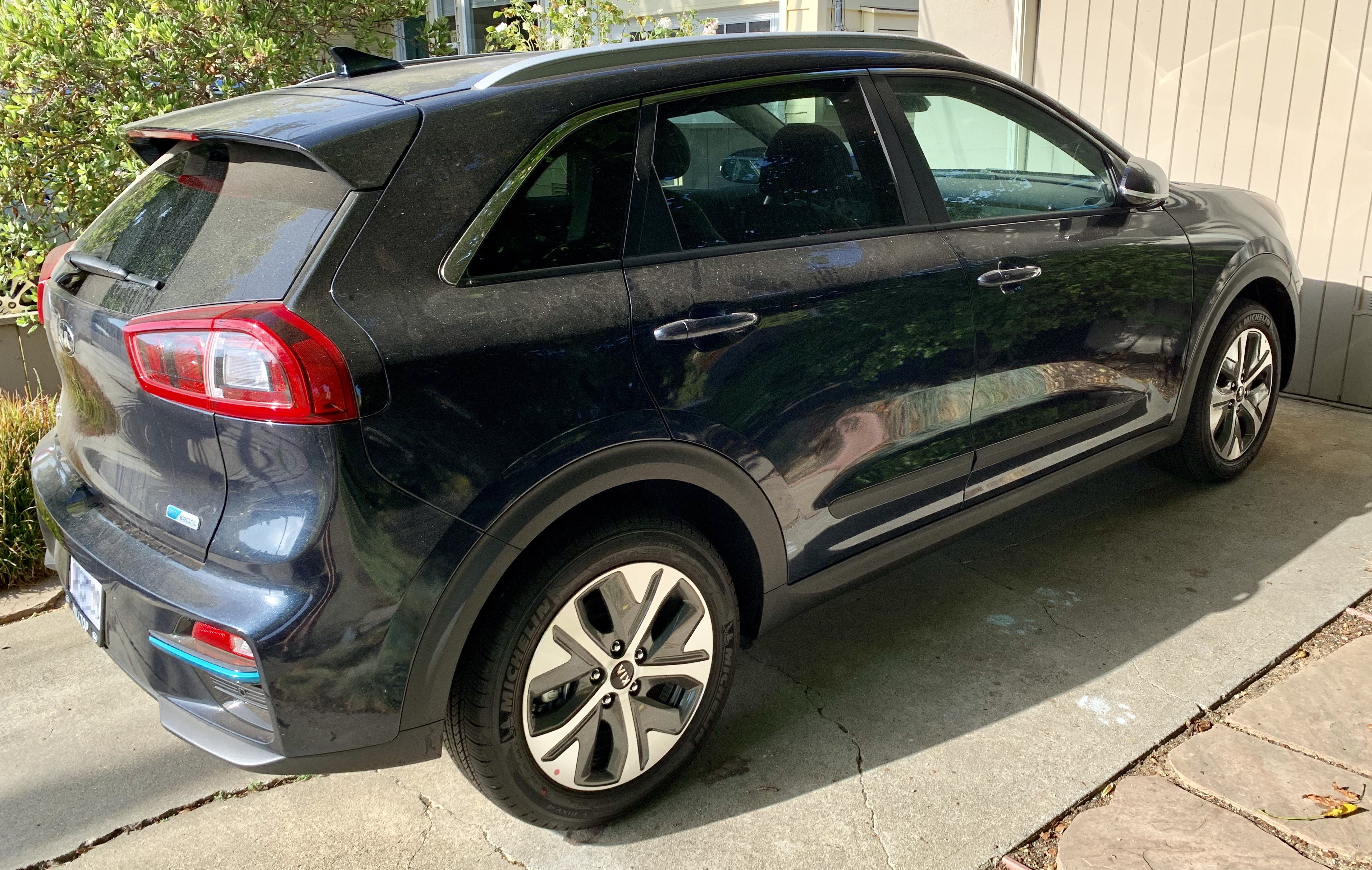 I've somehow gone from being a person who basically doesn't care about cars at all … to being one of those insufferable electric car people who won't shut up about them. I apologize in advance. If you suddenly feel an overwhelming urge to close this browser tab, I don't blame you.
I was expecting another car, like the three we bought before. What I got, instead, was a transformation:
Yes, yes, electric cars are clean, but it's a revelation how clean everything is in an electric. You take for granted how dirty and noisy gas based cars are in daily operation – the engine noise, the exhaust fumes, the brake dust on the rims, the oily residues and thin black film that descends on everything, the way you have to wash your hands every time you use the gas station pumps. You don't fully appreciate how oppressive those little dirty details were until they're gone.

Electric cars are (almost) completely silent. I guess technically in 2019 electric cars require artificial soundmakers at low speed for safety, and this car has one. But The Oatmeal was right. Electric cars feel like spacecraft because they move so effortlessly. There's virtually no delay from action to reaction, near immediate acceleration and deceleration … with almost no sound or vibration at all, like you're in freakin' space! It's so immensely satisfying!

Electric cars aren't just electric, they're utterly digital to their very core. Gas cars always felt like the classic 1950s Pixar Cars world of grease monkeys and machine shop guys, maybe with a few digital bobbins added here and there as an afterthought. This electric car, on the other hand, is squarely in the post-iPhone world of everyday digital gadgets. It feels more like a giant smartphone than a car. I am a programmer, I'm a digital guy, I love digital stuff. And electric cars are part of my world, rather than the other way around. It feels good.

Electric cars are mechanically much simpler than gasoline cars, which means they are inherently more reliable and cheaper to maintain. An internal combustion engine has hundreds of moving parts, many of which require regular maintenance, fluids, filters, and tune ups. It also has a complex transmission to translate the narrow power band of a gas powered engine. None of this is necessary on an electric vehicle, whose electric motor is basically one moving part with simple 100% direct drive from the motor to the wheels. This newfound simplicity is deeply appealing to a guy who always saw cars as incredibly complicated (but computers, not so much).

Being able to charge at home overnight is perhaps the most radical transformation of all. Your house is now a "gas station". Our Kia Niro has a range of about 250 miles on a full battery. With any modern electric car, provided you drive less than 200 miles a day round trip (who even drives this much?), it's very unlikely you'll ever need to "fill the tank" anywhere but at home. Ever. It's so strange to think that in 50 years, gas stations may eventually be as odd to see in public as telephone booths now are. Our charger is, conveniently enough, right next to the driveway since that's where the power breaker box was. With the level 2 charger installed, it literally looks like a gas pump on the side of the house, except this one "pumps" … electrons.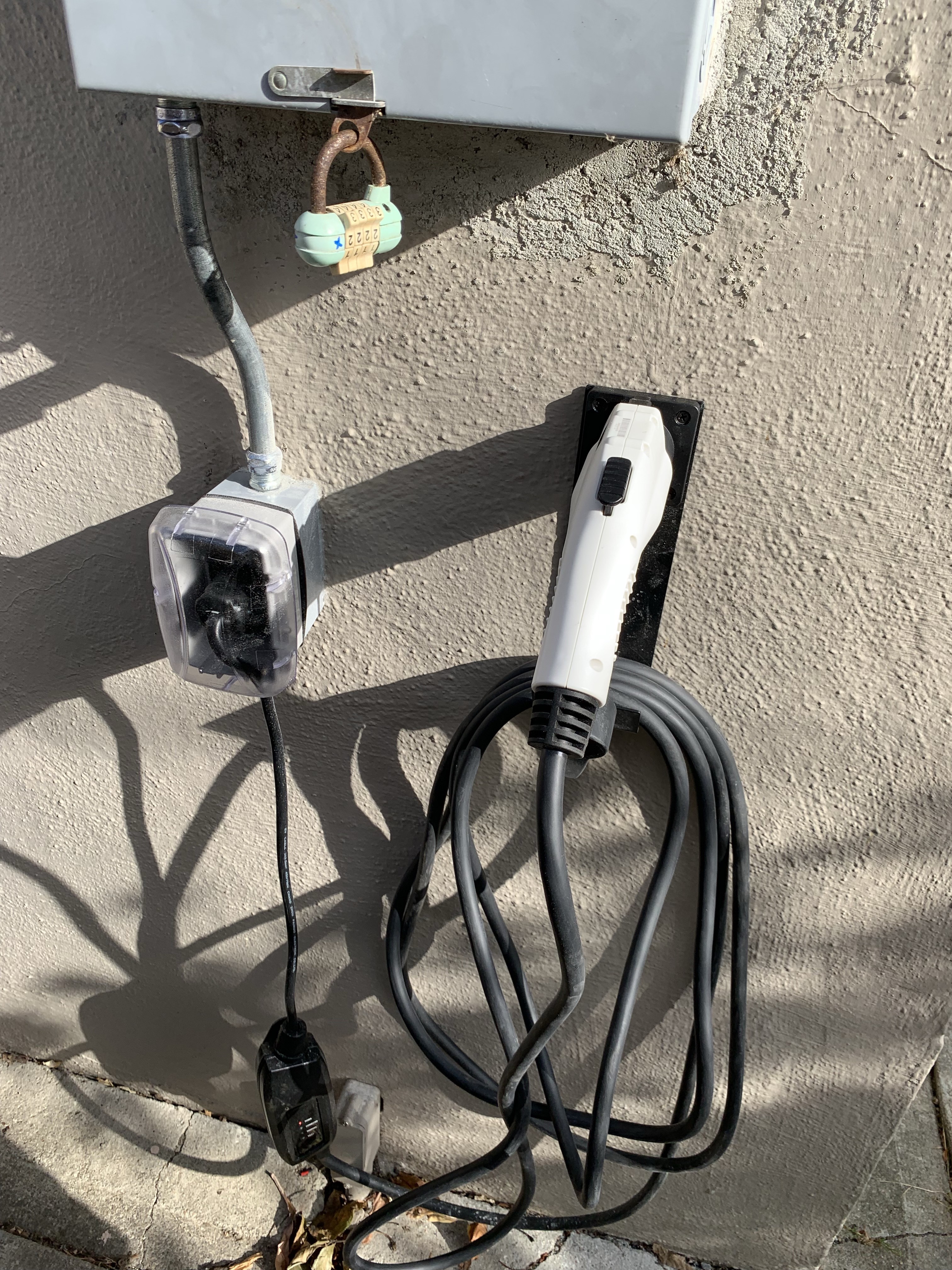 This electric car is such a great experience. It's so much better than our gas powered station wagon that I swear, if there was a fully electric minivan (there isn't) I would literally sell our Honda minivan tomorrow and switch over. Without question. And believe me, I had no plans to sell that vehicle two months ago. The electric car is that much better.
I was expecting "yet another car", but what I got instead was a new, radical worldview. Driving a car powered by barely controlled liquid fuel detonations used to be normal. But in an world of more and more viable electric vehicles this status quo increasingly starts to feel … deeply unnatural. Electric is so much better of an overall experience that you begin to wonder: why did we ever do it that way?
Gas cars seem, for lack of a better word, obsolete.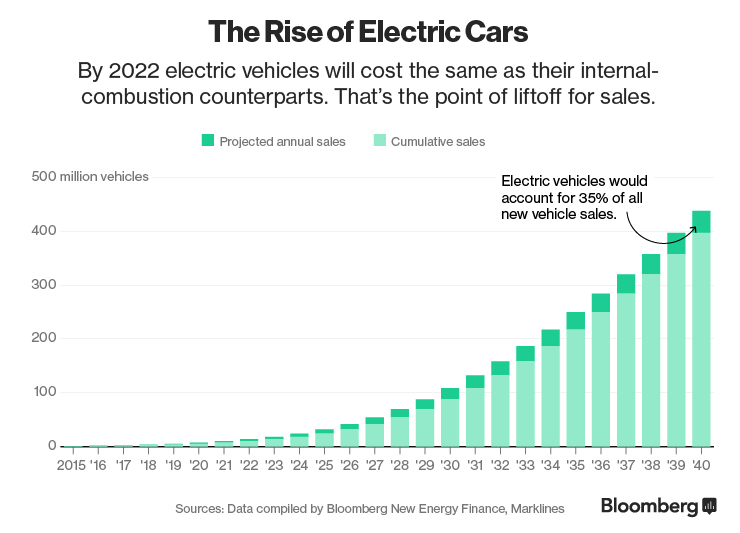 How did this transformation happen, from my perspective, so suddenly? When exactly did electric cars go from "expensive, experimental thing for crazy people" to "By God, I'll never buy another old fashioned gasoline based car if I can help it"?
I was vaguely aware of the early electric cars. I even remember one coworker circa 2001 who owned a bright neon green Honda Insight. I ignored it all because, like I said, I'm not a car guy. I needed to do the research to understand the history, and I started with the often recommended documentary Who Killed the Electric Car?
This is mostly about the original highly experimental General Motors EV1 from 1996 to 1999. It's so early the first models had lead-acid batteries! 😱 There's a number of conspiracy theories floated in the video, but I think the simple answer to the implied question in the title is straight up price. The battery tech was nowhere near ready, and per the Wikipedia article the estimated actual cost of the car was somewhere between $100,000 and $250,000 though I suspect it was much closer to the latter. It is interesting to note how much the owners (well, leasers) loved their EV1s. Having gone through that same conversion myself, I empathize!
I then watched the sequel, Revenge of the Electric Car. This one is essential, because it covers the dawn of the modern electric car we have today.
This chronicles the creation of three very influential early electric cars — the Nissan Leaf, the Chevy Volt, and of course the Tesla Roadster from 2005 - 2008. The precise moment that Lithium-Ion batteries were in play – that's when electric cars started to become viable. Every one of these three electric cars was well conceived and made it to market in volume, though not without significant challenges, both internal and external. None of them were perfect electric vehicles by any means: the Roadster was $100k, the Leaf had limited range, and the Volt was still technically a hybrid, albeit only using the gasoline engine to charge the battery.
Ten years later, Tesla has the model 3 at $38,000 and we bought our Kia Niro for about the same price. After national and state tax incentives and rebates, that puts the price at around $30,000. It's not as cheap as it needs to be … yet. But it's getting there. And it's already competitive with gasoline vehicles in 2019.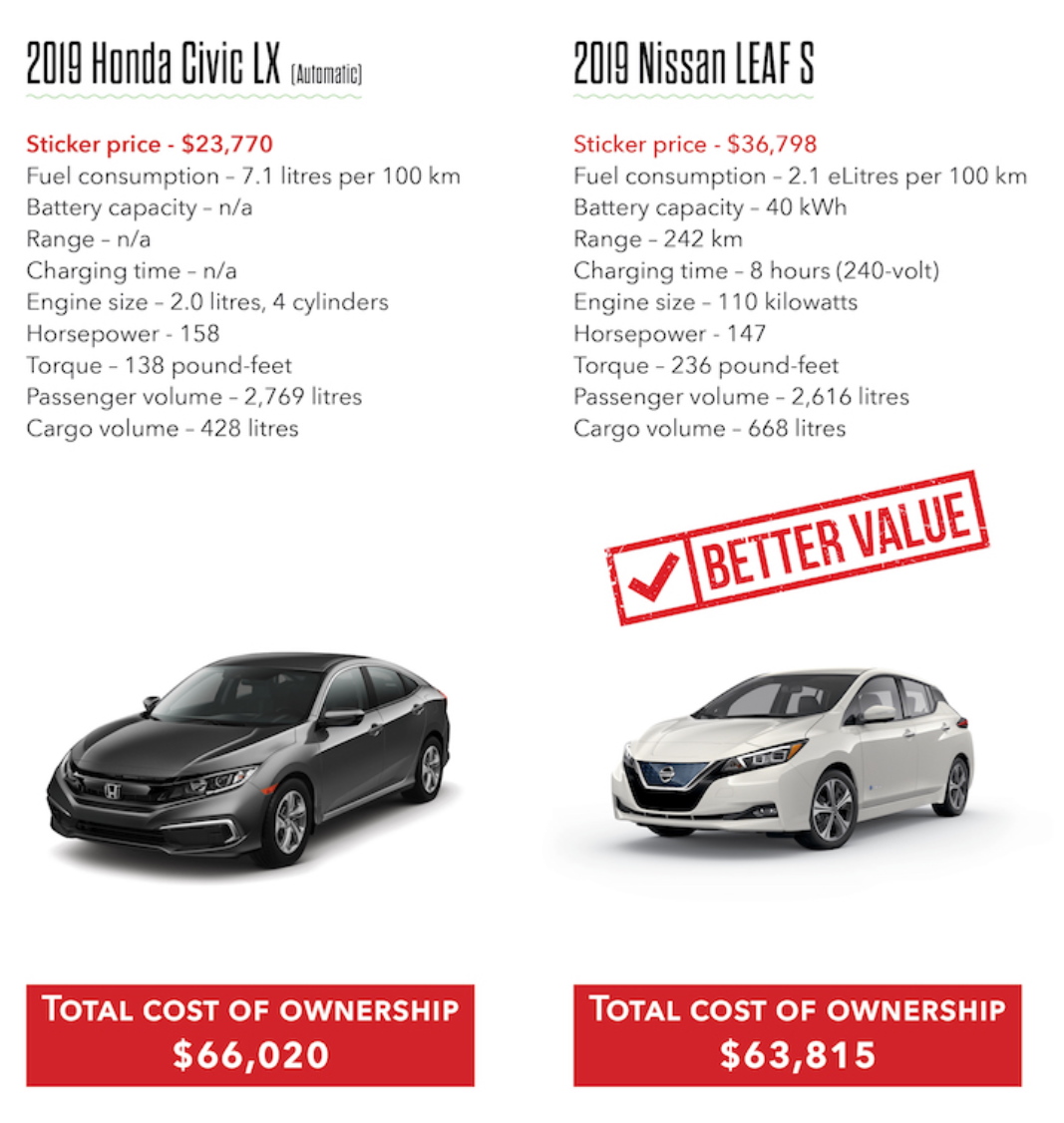 It's still early, but the trend lines are clear. And I'm here to tell you that right now, today, I'd buy any modern electric car over a gasoline powered car.
If you too are intrigued by the idea of owning an electric car, you should be. It's freaking awesome! Bring your skepticism, as always; I highly recommend the above Matt Ferrell explainer video on electric vehicle myths.
As for me, I have seen the future, and it is absolutely, inexorably, and unavoidably … electric. ⚡
by Jeff Atwood at August 20, 2019 11:35 AM
August 19, 2019
Circuses, like children, are always both charming and creepy. Make it a children's circus, i.e., like Greenboro, Vermont's Circus Smirkus, where the stars of the circus are themselves children, and the charm and creepiness both get double-baked in.
Erin Clark for The Boston Globe took these photographs, and they were featured at The Big Picture.
This last might be my favorite. It's not a circus kid, per se; just a kid, bored, grumpy, and uncaring who knows about it. Even the circus can be like that, kid. Maybe especially the circus. Worth filing away.

Tags:
circus
photography
by Tim Carmody at August 19, 2019 05:30 PM
Gizmodo has a pretty cool theme this week: the Alternate Internet. Not, like, the internet where they play Stone Temple Pilots b-sides — although, cool idea. No, like, the internet of alternate universes, different pasts and futures, where things went differently and like, Yahoo doesn't ruin all it touches. That's my kind of party.
The story on alternate social media networks offers a nice media archaeology of all these sites; how they were covered and explained in the moment. Check out this explanation of Friendster in SF Weekly from August 13, 2003:
"Your induction into Friendster starts out innocently enough: You receive an e-mail invitation from a friend. It doesn't cost anything to join, so you give it a whirl. You answer questions about your profession, favorite books, movies, music, and other interests, then upload a digital photo of yourself.
Thumbnail versions of your friends' photos appear on your profile page like a collection of trading cards. Clicking on their pictures takes you to their pages, where you can see all of their friends, and so on. Even with only a few friends, you find that — through friends of friends — you suddenly have access to a social network of thousands of people."
It's a pretty common story what happened to all these sites; either they took the money, and got mismanaged, driving off whatever users they had in the first place, or they didn't take the money, which meant they could never stay usable enough to support all of the users they were taking on.
A few other common threads: a fear of porn, other lewd behavior, and Yik Yak -style harassment. In short, it's hard to make a social media site actually go big. You need money, a vanilla rep, ruthlessness, and more money. In the end, Facebook really was in the right place at the right time.
The one thing this doesn't do is some deep left-field speculating, like, what if Google had seen what it had in Blogger to create Facebook before Facebook? Or Yahoo had figured it out with version X of whatever asset Yahoo had? There are social networks, real or latent, bigger than the social media graveyeard — some of the pieces are still here.
Tags:
Facebook
social media
by Tim Carmody at August 19, 2019 04:45 PM
One of the troubles with interviewing Ira Glass is that Ira Glass has a lot of thoughts about interviews.
Claudia Dreifus: When we first discussed doing this, you asked if I had heard a recent Terry Gross interview with Howard Stern. Why was that?

Ira Glass: Because it was an interviewer interviewing an interviewer. It was interesting to hear him appreciate her moves. He also clearly had no idea who she is. He admitted, "I sort of looked you up last night." Whereas I know Terry has been listening for years.

To be clear: he's an excellent interviewer. Part of the pleasure was hearing these two iconic radio voices talking to each other. Stern clearly admired the interview she was doing. She did such a good job of pointing him to things, being appropriately critical of the way that he talks about women, but also being appropriately admiring.

If I were to interview him, I'd feel intimidated.

Really?

Yeah. He's a bossy sort of presence. I don't like interviewing famous people. They make me nervous. I've always tried to avoid interviewing famous people.

Is that because they are usually over-interviewed or because they arrive at an interview with impenetrable masks?

All of these things.

It's just more difficult. To get them to say anything real, you have to find an angle on their experience that will open them up. And there are things famous people want to keep private, things they're tired of talking about, things they've told so many times that they have no interest in telling them again—but will tell again in exactly the same words they've used in the past…

Can I go back to something? And feel free to edit this any way you like. I'm already editing this interview in my head because I'm a crazy person and can't stop myself. This idea of not wanting to interview famous people, that's one of the things that led to the work I'm doing today. I knew in my twenties, while at NPR, that the thing I wanted to do was document regular people's lives. The question then was, "How do you do that?"
It is weird to me that Ira Glass in his sixties. (He just turned 60 in March.) All this time, Ira Glass was less than a year younger than Prince.
Ira Glass has a lot of thoughts about podcasts that he doesn't seem ready to share. You can see it, he kind of schtums up and falls back on generalities and a few broad compliments. I don't know. Maybe that's all he's got, maybe that's all we can have.
Ira Glass says he borrowed and borrows a lot from Roland Barthes' S/Z when trying to get interviewees to structure a story, but I don't really see it. This line made me laugh though.
At college, we were assigned Barthes's S/Z , which made me understand what I could do in radio.

Really? How did the French semiotician help shape your journalism? Frankly, a lot of people find semiotics to be…

—this incredibly pretentious literary theory that takes as its thesis that narrative is part of the general conspiracy of language to imprison us in our place in society. I ignored that.
Ira Glass should find more ways to tell stories about what working in radio was like in the seventies. There's something there. He doesn't catch it all.
Tags:
interviews
Ira Glass
radio
by Tim Carmody at August 19, 2019 03:50 PM
The servers at The Restaurant of Mistaken Orders, a series of pop-up restaurants in Tokyo, are all living with dementia, which means that you might not receive what you ordered.
All of our servers are people living with dementia. They may, or may not, get your order right.

However, rest assured that even if your order is mistaken, everything on our menu is delicious and one of a kind. This, we guarantee.

"It's OK if my order was wrong. It tastes so good anyway." We hope this feeling of openness and understanding will spread across Japan and through the world.
At the first pop-up, 37% of the orders were mistaken. This video explains a bit more about the concept and shows the restaurant in action.
Tags:
food
Japan
medicine
restaurants
video
by Jason Kottke at August 19, 2019 01:48 PM
August 18, 2019
Playlist from Gateway to Joy with Donna on WFMU, from Aug 17, 2019
August 16, 2019
For the past year, a group of teens in Nigeria called the Critics Company have been uploading short sci-fi films to their YouTube channel. Using a smartphone with a busted screen, makeshift equipment, open source 3D tools like Blender, and green sheets hung on walls, the self-taught group has produced some professional-grade special effects. Check out this 10-minute short they uploaded in January, Z: The Beginning.
Here's a breakdown of how they did some of the visual effects for their short called Chase:
The group has attracted some media attention; here's a news report with some further behind-the-scenes details (see also similar reports by Reuters and Al Jazeera):
Tags:
Nigeria
video
by Jason Kottke at August 16, 2019 07:43 PM
As he does every so often, President Obama shared a list of the books that he's reading this summer in this Facebook post. I am not ashamed to admit that Obama's recs have pushed me to read quite a few books, including Pachinko and the Three-Body Problem trilogy, and not once have I been disappointed. This time around, he recommends anything and everything by Toni Morrison and a few other things.
Exhalation by Ted Chiang is a collection of short stories that will make you think, grapple with big questions, and feel more human. The best kind of science fiction.

Wolf Hall, Hilary Mantel's epic fictionalized look at Thomas Cromwell's rise to power, came out in 2009, but I was a little busy back then, so I missed it. Still great today.

Lab Girl by Hope Jahren is a beautifully written memoir about the life of a woman in science, a brilliant friendship, and the profundity of trees. Terrific.
I still recommend Wolf Hall (and her follow-up, Bring Up the Bodies) to almost everyone who asks me what they should read next and am looking forward to tackling Chiang's collection soon.
Tags:
Barack Obama
books
lists
by Jason Kottke at August 16, 2019 06:09 PM
In most time lapse videos you see of the night sky, the stars wheel through the sky as the heavens revolve around the Earth. But that perspective is really only valid from our particular frame of reference standing on the Earth. What's actually happening is that our tiny little speck of dirt is twirling amid a galactic tapestry that is nearly stationary. And in the video above, you see just that…the Earth rotating as the camera lens stays locked on a motionless Milky Way. Total mindjob.
See also the fisheye views of the Earth rotating about the stabilized sky in this video.
Tags:
Earth
space
time lapse
video
by Jason Kottke at August 16, 2019 04:22 PM
Photos by Daehyuk Im of the Coney Island amusement rides and other structures, framed against the sky. Looking back through some photos I've taken of various amusement rides, this is also my favorite way of capturing them. (via moss & fog)
Tags:
Daehyuk Im
photography
by Jason Kottke at August 16, 2019 01:39 PM
August 15, 2019
The first Africans to be brought as slaves to British North America landed in Port Comfort, Virginia in 1619. Thus began America's 400-year history with slavery and its effects, which continue to reverberate today. With The 1619 Project, the NY Times is exploring that legacy with a series of essays and other works that "aims to reframe the country's history, understanding 1619 as our true founding, and placing the consequences of slavery and the contributions of black Americans at the very center of the story we tell ourselves about who we are." The Columbia Journalism Review explains:
Contributors consider various modern quandaries — rush hour traffic, mass incarceration, an inequitable healthcare system, even American overconsumption of sugar (the highest rate in the Western world) — and trace the origins back to slavery. Literary and visual artists drew from a timeline chronicling the past 400 years of Black history in America; their work is presented chronologically throughout the magazine. Taken together, the issue is an attempt to guide readers not just toward a richer understanding of today's racial dilemmas, but to tell them the truth.
Nikole Hannah-Jones, who came up with the idea for the project, writes in an essay:
The United States is a nation founded on both an ideal and a lie. Our Declaration of Independence, signed on July 4, 1776, proclaims that "all men are created equal" and "endowed by their Creator with certain unalienable rights." But the white men who drafted those words did not believe them to be true for the hundreds of thousands of black people in their midst. "Life, Liberty and the pursuit of Happiness" did not apply to fully one-fifth of the country. Yet despite being violently denied the freedom and justice promised to all, black Americans believed fervently in the American creed. Through centuries of black resistance and protest, we have helped the country live up to its founding ideals. And not only for ourselves — black rights struggles paved the way for every other rights struggle, including women's and gay rights, immigrant and disability rights.

Without the idealistic, strenuous and patriotic efforts of black Americans, our democracy today would most likely look very different — it might not be a democracy at all.
Bryan Stevenson writes about America's criminal justice system:
The 13th Amendment is credited with ending slavery, but it stopped short of that: It made an exception for those convicted of crimes. After emancipation, black people, once seen as less than fully human "slaves," were seen as less than fully human "criminals." The provisional governor of South Carolina declared in 1865 that they had to be "restrained from theft, idleness, vagrancy and crime." Laws governing slavery were replaced with Black Codes governing free black people — making the criminal-justice system central to new strategies of racial control.

These strategies intensified whenever black people asserted their independence or achieved any measure of success. During Reconstruction, the emergence of black elected officials and entrepreneurs was countered by convict leasing, a scheme in which white policymakers invented offenses used to target black people: vagrancy, loitering, being a group of black people out after dark, seeking employment without a note from a former enslaver. The imprisoned were then "leased" to businesses and farms, where they labored under brutal conditions.
And Jamelle Bouie on power in America:
There is a homegrown ideology of reaction in the United States, inextricably tied to our system of slavery. And while the racial content of that ideology has attenuated over time, the basic framework remains: fear of rival political majorities; of demographic "replacement"; of a government that threatens privilege and hierarchy.

The past 10 years of Republican extremism is emblematic. The Tea Party billed itself as a reaction to debt and spending, but a close look shows it was actually a reaction to an ascendant majority of black people, Latinos, Asian-Americans and liberal white people. In their survey-based study of the movement, the political scientists Christopher S. Parker and Matt A. Barreto show that Tea Party Republicans were motivated "by the fear and anxiety associated with the perception that 'real' Americans are losing their country."
Update: The Pulitzer Center has a study guide to go with The 1619 Project, including a free download of the entire magazine issue (no subscription necessary).
Tags:
Bryan Stevenson
Jamelle Bouie
Nikole Hannah-Jones
racism
slavery
USA
by Jason Kottke at August 15, 2019 10:27 PM
Oh, I love these abstract oil paintings by Jason Anderson. They are analog and organic but also more than a little pixel-y. Every time I see something like this, I want to get out my paints, stretch a canvas, and try it out. Note: I do not own any paints nor have I ever built any canvases. These "chunky" abstracts (see also Joseph Lee's work) always make me curious about how much abstraction you can get away with and still have it look like something the viewer can recognize. Abstraction also always makes me think about Scott McCloud. (via colossal)
Tags:
art
Jason Anderson
by Jason Kottke at August 15, 2019 08:18 PM
Today I learned that ZIP Codes do not strictly represent geographic areas but rather "address groups or delivery routes".
Despite the geographic derivation of most ZIP Codes, the codes themselves do not represent geographic regions; in general, they correspond to address groups or delivery routes. As a consequence, ZIP Code "areas" can overlap, be subsets of each other, or be artificial constructs with no geographic area (such as 095 for mail to the Navy, which is not geographically fixed). In similar fashion, in areas without regular postal routes (rural route areas) or no mail delivery (undeveloped areas), ZIP Codes are not assigned or are based on sparse delivery routes, and hence the boundary between ZIP Code areas is undefined.
The White House has its own ZIP Code (20500), as does the shoe floor of Saks Fifth Avenue in NYC (10022-SHOE). US mail to Santa Claus gets sent to the town of North Pole, Alaska (99705) but in Canada, Santa gets his own postal code (H0H 0H0). And Smokey Bear has his own ZIP Code (20252) because he gets so much mail.
ZIP Codes are therefore not that reliable when doing geospatial analysis of data:
Even though there are different place associations that probably mean more to you as an individual, such as a neighborhood, street, or the block you live on, the zip code is, in many organizations, the geographic unit of choice. It is used to make major decisions for marketing, opening or closing stores, providing services, and making decisions that can have a massive financial impact.

The problem is that zip codes are not a good representation of real human behavior, and when used in data analysis, often mask real, underlying insights, and may ultimately lead to bad outcomes. To understand why this is, we first need to understand a little more about the zip code itself.
For instance, in Miami's 33139 ZIP Code the difference between the highest median income (as measured in much more granular US Census Block Groups) and lowest median income is over $240,000. So you can imagine it would be difficult to know or even assume anything in general about those residents based on their ZIP Code alone.
Tags:
maps
Smokey Bear
by Jason Kottke at August 15, 2019 04:52 PM
The mission of Version Museum is to record and present what the interfaces of software and websites looked like, from their earliest versions until now. The site's tagline is "a visual history of your favorite technology". Here's the history of Facebook; an early screenshot:
The first version of Microsoft's Excel for Windows:
Internet Explorer (screenshot of the 1.0 version displaying a circa-1995 Yahoo! homepage):
The collection isn't huge, but the father/son team behind it hits the high points, including Amazon, New York Times, OS X, and iTunes.
Update: One of the Facebook screenshots that the Version Museum is using included Brian Moore's phone number and other personal information. Per Moore's general request, I have blurred out that information and I hope the museum does the same. (thx, all)
Tags:
design
by Jason Kottke at August 15, 2019 02:20 PM
August 14, 2019
Designer Jordan Vincent has created a visualization tracking overnight stays in US National Parks, i.e. people using tents & RVs at campsites, backcountry camping, and lodging.
As you can see from the charts, the usage of many parks is heaviest in the summer. For instance, Yellowstone is used heavily until the beginning of September and then drops off to almost nothing by mid-October. For some parks, like the Great Smoky Mountains and Shenandoah, usage spikes in the fall during peak foliage.1
Tags:
infoviz
Jordan Vincent
by Jason Kottke at August 14, 2019 08:07 PM
Urban Nudges is a site that documents small efforts by cities and the people who live in them to slightly change the behaviors of their inhabitants in some way. A 2008 book by Richard Thaler and Cass Sunstein defines a nudge as "any aspect of the choice architecture that alters people's behavior in a predictable way without forbidding any options or significantly changing their economic incentives". That sounds a bit academic but some examples from the site clarify things. For instance, protected bike lanes encourage bike riding:
The study "Lessons from the Green Lanes: Evaluating Protected Bike Lanes in the U.S." was conducted in eight protected bike lanes in Austin, Chicago, Portland, San Francisco, and Washington, DC and the major findings were that bike lanes induced new bikers, mostly because they feel safer about the experience.

The researchers interviewed 2,283 cyclists using the bike lanes and found out that nearly ten percent of the users would have taken another mode of transportation if the bike lane hadn't existed and around one percent of the interviewed said they would not have taken the trip at all.
Dancing zebras in Bolivia cajole motorists into minding crosswalks and other rules of the street:
Inspired by the Colombian experience, in Bolivia the Department of transportation developed a program where urban educators get dressed as zebras, teaching children and adults urban values through empathy and comedy. The project's initial concept was to teach pedestrians and drivers the appropriate use of the pedestrian crossing and reduce congestion: urban zebras rejoice when pedestrians wait for green light and grab their head in agony when pedestrians jaywalk. Empathy, humility and comedy made them popular.
A speedometer in Amsterdam raises money for the neighborhood when drivers do the speed limit:
Every driver that passes by the speedometer below the speed limit of 30 km per hour raises EUR0,03 for the neighborhood. "The city's slogan: Max 30 — Save for the Neighborhood" (Pop Up City). The money raised by this initiative is granted by the city of Amsterdam and is meant to be invested in local community projects.
What kind of nudges could you imagine in your town or city?
Tags:
books
Cass Sunstein
cities
economics
Nudge
Richard Thaler
by Jason Kottke at August 14, 2019 06:08 PM
In 2013, University of Virginia historian Grace Elizabeth Hale wrote about "the long and often fractious history of soft drinks, prohibition laws and race" for the NY Times.
Coke's recipe wasn't the only thing influenced by white supremacy: through the 1920s and '30s, it studiously ignored the African-American market. Promotional material appeared in segregated locations that served both races, but rarely in those that catered to African-Americans alone.

Meanwhile Pepsi, the country's second largest soft drink company, had tried to fight Coke by selling its sweeter product in a larger bottle for the same price. Still behind in 1940, Pepsi's liberal chief executive, Walter S. Mack, tried a new approach: he hired a team of 12 African-American men to create a "negro markets" department.
Elsewhere in the soft drink industry, though, the oversimplification of target consumers has had its questionable if not altogether offensive moments, too. Mountain Dew, for instance, originally based its entire brand around making fun of poor Appalachians, also known as hillbillies. In the late 40s and early 50s, its label featured the official Mountain Dew mascot "Willy the Hillbilly" and the slogan: "Ya-Hoo! Mountain Dew. It'll tickle yore innards." (The name of the soft drink, of course, refers to the Southern slang for moonshine.)
In a not-very-convincing rebuttal to Hale's article, Coke's "Chief Historian" argues that the company has always been America's "most inclusive drink" and more oddly, that Coke has never contained cocaine, which Snopes handily debunked. (thx, caroline)
Tags:
advertising
beverages
Coca-Cola
food
Grace Elizabeth Hale
Pepsi
racism
by Jason Kottke at August 14, 2019 04:07 PM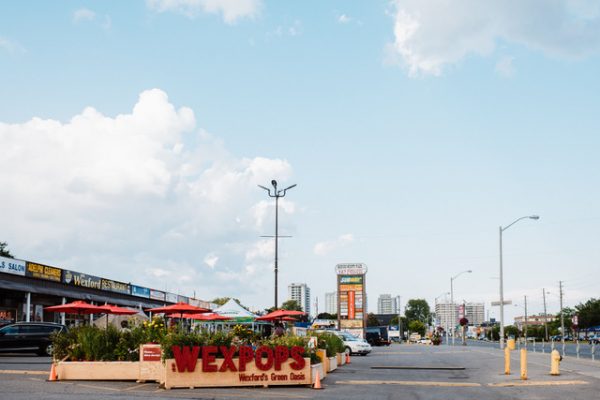 WexPOPS is a pilot of the plazaPOPS project, an initiative spearheaded by Daniel Rotsztain, aka The Urban Geographer, and Brendan Stewart (OALA, CAHP), professor of landscape architecture at the University of Guelph, and former Associate at ERA Architects.
---
In an interview supporting his recent book Palaces for the People: How Social Infrastructure can help fight Inequality, Polarization and the Decline of Civic Life, NYU sociologist Eric Klinenberg points to an idea that many urbanists take for granted, but that the general public may not: "[T]he social life we experience doesn't exist in a vacuum; there's a context for it. It can be supported or undermined by the places where we spend time." In other words, there is a relationship between the design of our physical environment, and the social life it enables, or not.
Klinenberg urges his readers to think about the types of places that foster connections and relationships between people and that build strong communities not as nice to haves, but rather as an essential infrastructure that buttresses the foundations of democracy, inoculating society from many of the challenges that define our current moment. He argues that "social infrastructure" will only become more critical as communities are forced to adapt to the challenges associated with climate change.
Closer to home, the Evergreen Foundation's Towards a Civic Commons Strategy proposes a similar vision for "a network of public places and facilities that enable communities to learn, celebrate, express collective actions, collaborate and flourish, together."
Inspired in part by these ideas, we've been working for over a year on an experiment to test the potential of creating a type of civic commons/social infrastructure within the ubiquitous strip mall parking lots that define the main streets of post-war neighbourhoods across the country, and which are home to millions of Canadians.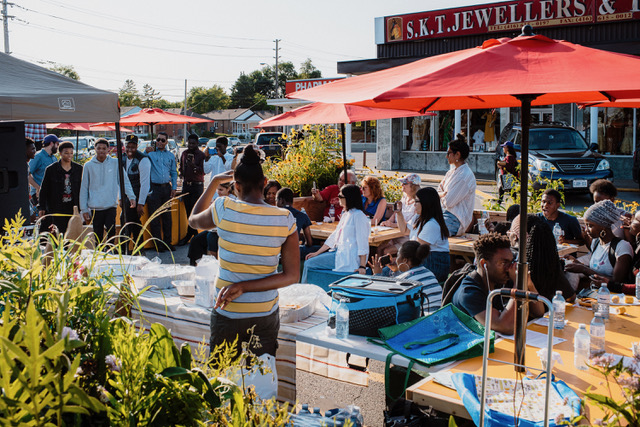 Open from July 5th to August 17th at the iconic Wexford Plaza at Lawrence Avenue East and Warden Avenue in Scarborough, WexPOPS is the result of more than a year of community consultations, planning and design work, and a collaboration involving 19 Master's of Landscape Architecture (MLA) students from the University of Guelph, graduate business and planning students from the University of Toronto's Rotman CityLAB fellowship program, a 15-member local working group, and a partnership with the Wexford Heights BIA.
The City of Toronto's Public Realm Unit, Scarborough Arts, the TRCA, the Arab Community Centre of Toronto, Mural Roots, the Working Women Community Centre and a number of local businesses who supported the initiative in various ways, including the Kirakou family, who own the Wexford Restaurant and the entire plaza and generously hosted the project.
Funded by Parks People's Public Space Incubator Grant, generously supported by Ken and Eti Greenberg and the Balsam Foundation, as well as the City of Toronto's BIA Kickstarter Fund, WexPOPS proposes a big idea: to test the viability of exchanging parking spots for a community gathering space all on private commercial property. It's a new take on POPS — privately owned public space — and experiments with the city building potential that commercial business owners can exercise by enhancing community life in the neighbourhoods they serve. Hopefully, they'll also seeing an uptick in business.
Similar strip malls are found throughout Toronto's inner suburbs and in post-war neighbourhoods all over Ontario and Canada. In many cases, especially in Toronto, the retail remains vibrant and local, serving as important settings for community life, and features numerous restaurants and shops serving food and offering goods from all over the world. The Wexford Heights BIA, a two-kilometre strip running between Victoria Park and Birchmount along Lawrence Avenue East, features over 60 restaurants, and has been celebrated by food columnists as a major dining destination.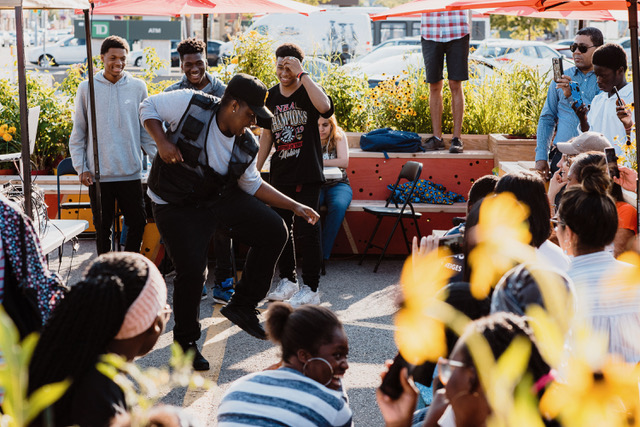 The project grew out of Daniel's fascination with the strip malls he frequented in his youth, culminating in his 2018 MLA thesis at University of Guelph, which was overseen by Dr. Karen Landman and Brendan Stewart. It builds on Daniel's work as an artist, examining the setting of Toronto's public life, including All the Libraries Toronto, his documentation of all 100 public library branches in the city, as well as a recent residency at Yorkdale Mall that asserted the centrality of private shopping centres in Toronto's social geography.
WexPOPS also builds on Brendan's citizen engagement Tower Renewal work with ERA Architects, including parking lot to community space conversion projects at the East Scarborough Storefront (2010 – 2015) and Ridgeway Community Courts (2015-2017) in Mississauga.
The final design of WexPOPS features a series of modular planters, benches, tables and umbrellas, all clad in marine plywood and trimmed in cedar. Occupying ten parking spaces, the installation creates a comfortable and sheltered 'room' in the middle of the parking lot, and frames dynamic views of the strip mall behind. The carpentry was done by Guelph-based Ben O'Hara Design, and all of the components were designed as modules that could be re-configured into different arrangements to suit various future site conditions, and also to flat-pack for easy assembly and storage.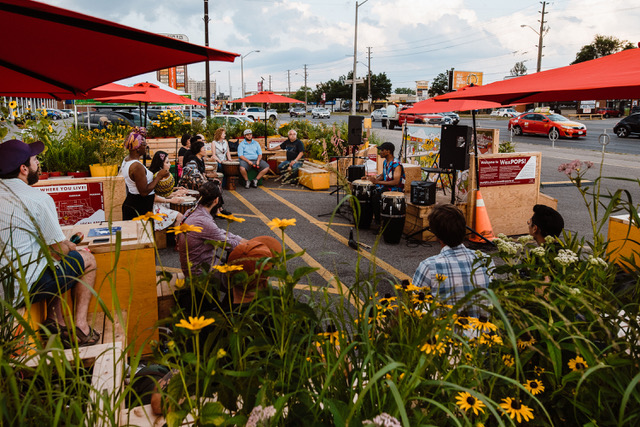 Six design concepts for the project were developed through a series of community workshops by student teams in a graduate community design studio at the U of G this past winter, and the ideas most favoured by the working group and a wider online engagement were incorporated into the final design. For example, one student team developed the colour scheme for the project, which includes vibrant red, orange and yellow and was inspired by the spice markets of the Middle East. Another student team proposed a space of lush and immersive greenery, an idea that resonated in the community and which dominates the final design.
In all, WexPOPS features over 500 plants, which are planted in colour-coded pots: red denoting native perennial wildflowers and grasses, orange for annuals, and yellow for edibles. The pots were created from salvaged recycling pails from the university, and were painted and drilled for drainage. The annuals and edibles were grown in campus greenhouses and donated to the project. All of the native plants, grown by Native Plants in Claremont, will be donated to the Toronto Region Conservation Authority, to be planted in a local stretch of the Meadoway this fall.
Twelve local youth from an after-school program run from the Arab Community Centre of Toronto across the street have been hired as site supervisors, stewarding the site through daily watering, waste management and other set-up tasks.
At night, LED lighting within the benches creates a welcoming atmosphere, and the illuminated strip mall signage creates a dynamic backdrop. During several evenings this summer, including an upcoming event on August 17th, the WexPOPS stage (with a mural designed by Echo Railton and painted by community volunteers) offers music and dance performances by local artists, co-curated by Scarborough Arts as well as urban ecology workshops lead by the TRCA.
WexPOPS is meant to be a hub of social activity for the local community, but also to attract visitors from beyond — a desire articulated by our working group, whose members wanted to `put Wexford on the map.' The space features a neighbourhood business directory which encourages people to patronize the local restaurants and businesses (and eat takeout in the space), as well as a 'dot map,' which prompts visitors to place a sticker on a map showing where they live. This data will help the team evaluate the impact and reach of the project. The signs were donated in kind by CAS Signs Company, a printer located in Wexford Plaza a few stores down from WexPOPS. The 'Wexford Wish Tree,' inspired by the shape of the sumac and CNC milled by local AC Waterjet, poses a different question every two weeks and invites visitors to write their answers on a horticultural tag and tie them to the tree for others to read.
WexPOPS may be popping down after August 18, but the proof of concept has already inspired many to reconsider the potential of privately-owned strip mall parking lots as community gathering places, including, perhaps most importantly, the Kirakou family — the property owners and our project hosts. To more concretely determine the project's impact, the plazaPOPS team is conducting a public life study, modeled on methodologies pioneered by Denmark's Gehl Architects. We are also studying the impact on parking and local business activity. The Rotman students, guided by Prof. Rafael Gomez, prepared a background study that informed the research design.
Project findings will be published later this year in an exit report, but already, many working in the urban design, community arts, and economic development sectors have noted the potential for applying the plazaPOPS concept beyond Wexford Heights, understanding the value of creating space to support the social life of communities in strip malls across Toronto, Ontario, and Canada.
photos courtesy of Rotsztain and Stewart
---
More information about the project and its design and planning process are available at www.plazaPOPS.ca and via twitter and Instagram at @plaza_pops. You can reach the team at plazapops@gmail.com.
The post WexPOPS pops-up in a vibrant suburban stripmall appeared first on Spacing Toronto.
by Brendan Stewart at August 14, 2019 03:00 PM
Gerry is a typeface where the letterforms are created from heavily gerrymandered Congressional districts. For example, the letter U is the 4th district in Illinois:
Click through to download the font for free and to tweet at your representative to stop gerrymandering.
Tags:
design
maps
politics
typography
by Jason Kottke at August 14, 2019 02:04 PM
August 13, 2019
In today's episode of Earworm, Estelle Caswell teams up with Matt Daniels from The Pudding to track the popularity of the falsetto in pop music from the 50s to today. Caswell has a hunch that falsetto has been getting more popular, so they end up getting a bunch of data from Pandora that tracks the amount of falsetto used in a song and the vocal register of the singer, which they compared against Billboard Top 100 songs. The verdict? You'll have to watch the video, but just remember all of those soul songs in the 70s and heavy metal & pop songs in the 80s…
Caswell compiled a Spotify playlist of songs with prominent use of falsetto:
In the recommended reading list, I found this Frieze piece from 2010, The Evolution of the Male Falsetto.
By reputation the falsetto voice is both angelic and diabolical, depending on who is singing, and to what purpose. Jónsi Birgisson, vocalist with Sigur Rós, is revered for his keening falsetto, the most ethereal element inside a great wash of sound. Birgisson is openly gay; on the other hand I still remember, at age 13, hearing Robert Plant singing Led Zeppelin's 'Black Dog' (1971) for the first time, and how its devilish heterosexual lust scared me to bits. Plant is a truly outrageous singer, possessing a voice so alight with desire that he sounds in imminent danger of burning up. He is predatory but vulnerable, a bare-chested rock god who sings from a place of sexual rapture that cancels out the boundaries of his own body. He got there through intensive study of the blues: as with most tropes in popular music, the falsetto is in continual transit between black and white performers and their audiences.
But back to the video, I LOL'd at ~3:30 when they went through the raw data of falsettos, which goes from George P. Watson in 1911 (a yodeler) to contemporary Radiohead. I am a big Radiohead fan. And my kids? Not so much. In fact, my son has been trying to convince me for the past year that Thom Yorke doesn't so much sing as yodel. I've explained falsettos to him but I will invariably hear "ugh, yodeling!" from the backseat when Radiohead comes on in the car. This Watson/Radiohead connection though…maybe he has a point? Maybe I just like yodeling?
Tags:
Estelle Caswell
infoviz
Matt Daniels
music
Radiohead
Thom Yorke
video
by Jason Kottke at August 13, 2019 09:41 PM
In 1965, long after his days making some of the most iconic and physically demanding silent films, pioneering physical comedian Buster Keaton made one last silent flick with the National Film Board of Canada.
This short film from director Gerald Potterton (Heavy Metal) stars Buster Keaton in one of the last films of his long career. As "the railrodder", Keaton crosses Canada from east to west on a railway track speeder. True to Keaton's genre, the film is full of sight gags as our protagonist putt-putts his way to British Columbia. Not a word is spoken throughout, and Keaton is as spry and ingenious at fetching laughs as he was in the old days of the silent slapsticks.
Buster Keaton Rides Again, a 55-minute documentary about the making of The Railrodders, might be even more interesting because you hear Keaton talking about his craft and career.
See also The Scribe, a film that was released the following year that was Keaton's final starring role, Buster Keaton and the Art of the Gag, the small collection of posts about Keaton here at kottke.org, and this video of some of his most amazing stunts (with a voiceover of Keaton talking about his career):
(thx, marcus)
Tags:
Buster Keaton
movies
video
by Jason Kottke at August 13, 2019 08:01 PM
This is a really cool visualization of how Planet's 150+ imaging satellites take a complete satellite photo of the Earth every single day.
Every few seconds, the visualization picks a new satellite to track, allowing you to see the location, height, and speed. The satellites are 300 miles from the surface of the Earth moving at about 17,000 mph.
Tags:
infoviz
maps
satellite imagery
by Jason Kottke at August 13, 2019 05:51 PM
Using a concept from NASA, a Finnish company called Solar Foods has figured out how to manufacture protein from carbon dioxide, water, and electricity. They call it Solein.
A company from Finland, Solar Foods, is planning to bring to market a new protein powder, Solein, made out of CO2, water and electricity. It's a high-protein, flour-like ingredient that contains 50 percent protein content, 5-10 percent fat, and 20-25 percent carbs. It reportedly looks and tastes like wheat flour, and could become an ingredient in a wide variety of food products after its initial launch in 2021.

It's likely to first appear on grocery shelves in protein shakes and yogurt. It could be an exciting development: Solein's manufacturing process is carbon neutral and the potential for scalability seems unlimited — we've got too much CO2, if anything. Why not get rid of some greenhouse gas with a side of fries?
The production of food (and the protein contained in meat in particular) is responsible for a large percentage of our planet's changing climate, so if Solein pans out, it could be a huge development. It will be interesting to see if the wizards or prophets win the battle to "fix" climate change…Solein is one hell of a salvo by the wizards.
Tags:
food
global warming
science
by Jason Kottke at August 13, 2019 03:46 PM
For the New Yorker, Brooke Jarvis reviews Timothy C. Winegard's The Mosquito: A Human History of Our Deadliest Predator.
It turns out that, if you're looking for them, the words "mosquitoes," "fever," "ague," and "death" are repeated to the point of nausea throughout human history. (And before: Winegard suggests that, when the asteroid hit, dinosaurs were already in decline from mosquito-borne diseases.) Malaria laid waste to prehistoric Africa to such a degree that people evolved sickle-shaped red blood cells to survive it. The disease killed the ancient Greeks and Romans — as well as the peoples who tried to conquer them — by the hundreds of thousands, playing a major role in the outcomes of their wars. Hippocrates associated malaria's late-summer surge with the Dog Star, calling the sickly time the "dog days of summer." In 94 B.C., the Chinese historian Sima Qian wrote, "In the area south of the Yangtze the land is low and the climate humid; adult males die young." In the third century, malaria epidemics helped drive people to a small, much persecuted faith that emphasized healing and care of the sick, propelling Christianity into a world-altering religion.
And then there's this:
In total, Winegard estimates that mosquitoes have killed more people than any other single cause — fifty-two billion of us, nearly half of all humans who have ever lived. He calls them "our apex predator," "the destroyer of worlds," and "the ultimate agent of historical change."
Two other recent reviews of the book: In 'The Mosquito,' Humans Face A Predator More Deadly Than The Rest (NPR) and The mosquito isn't just annoying — Timothy C. Winegard says we're at war (LA Times).
Tags:
books
Brooke Jarvis
death
medicine
The Mosquito
Timothy Winegard
by Jason Kottke at August 13, 2019 01:51 PM
August 12, 2019
I realize that many of you have probably seen it already, but I ran across this while away on vacation and thought it was one of the most clever, moving, and powerful creative projects I've seen recently. Working off of a concept from 2009, activist architects Ronald Rael and Virginia San Fratello installed three seesaws through the US/Mexico border wall near El Paso which allowed children on both sides of the border to enjoy playing together.
Here's video of the seesaws in action (from Rael's Instagram post):
Brilliant. Damon Stapleton says that the seesaw has a "gentle anarchy" to it.
Their beautiful intention was to bring people together through design. As you may have guessed, I really like this idea. It has power, playfulness, humanity, humour and simplicity in equal measure. But most importantly, it has a gentle anarchy at its core. Great ideas like these have this essential creative point of view. There are no rules. Reject the world as it is or how others tell you to see it. Realise you have the ability to make the world the way you want it to be. And, it will be fun or at the very least, unboring. Gentle anarchy. This point of view can be scary for many. But without it, almost nothing will change or move forward.
The plans for the seesaw are on the cover of Rael's 2017 book, Borderwall as Architecture: A Manifesto for the U.S.-Mexico Boundary, in which he documents similar projects like Burrito Wall, where the border wall is converted into a small restaurant.
Tags:
architecture
art
Damon Stapleton
Ronald Rael
video
Virginia San Fratello
by Jason Kottke at August 12, 2019 08:12 PM
According to recent statistics, the number of books published about the climate crisis & the natural world aimed at children has more than doubled over the last year. Children's publishers are crediting climate activist Greta Thunberg with igniting interest in the climate among the younger set.
"I absolutely would say there has been a Greta Thunberg effect," says Rachel Kellehar, head of nonfiction. "She has galvanised the appetite of young people for change, and that has galvanised our appetite, as publishers, for stories that empower our readers to make those changes."
I'd give David Attenborough's recent run of nature documentaries some credit as well…the young people in my household are big fans of Planet Earth II and Blue Planet II.
Here are a few recent and upcoming children's books about climate and nature, in addition to Thunberg's own No One Is Too Small to Make a Difference, of course.
A Wild Child's Guide to Endangered Animals by Millie Marotta. "A Wild Child's Guide to Endangered Animals highlights the plight of 43 endangered species from around the world, including rare and well-known animals living in freshwater, oceans, forests, mountains, tundras, deserts, grasslands, and wetlands."
Earth Heroes: Twenty Inspiring Stories of People Saving Our World by Lily Dyu. "With twenty inspirational stories celebrating the pioneering work of a selection of Earth Heroes from all around the globe, from Greta Thunberg and David Attenborough to Yin Yuzhen and Isatou Ceesay, each tale is a beacon of hope in the fight for the future of our planet, proving that one person, no matter how small, can make a difference."
Ninita's Big World: The True Story of a Deaf Pygmy Marmoset by Sarah Glenn Marsh. "Published in partnership with the RSCF, this charming true story of how one little orphaned monkey got a second chance to have a family gently introduces kids to disability, biodiversity, and wildlife conservation."
Where the River Runs Gold by Sita Brahmachari. "The few live in luxury, whilst the millions like them crowd together in compounds, surviving on meagre rations and governed by Freedom Fields — the organisation that looks after you, as long as you opt in. The bees have long disappeared; instead children must labour on farms, pollinating crops by hand so that the nation can eat."
America's National Parks by Lonely Planet Kids. "With awesome facts, photos and illustrations on every page, you'll discover erupting geysers, exploding volcanoes, howling wolves, soaring eagles, mountains, glaciers, rainforests and more throughout the continental USA, Hawaii, American Samoa and the US Virgin Islands."
Kids Fight Plastic: How to be a #2minute Superhero by Martin Dorey. "Read this essential book and find out how you can become a #2minutesuperhero by completing 50 missions to fight plastic at home, school and on your days out."
Don't Let Them Disappear by Chelsea Clinton. "Taking readers through the course of a day, Don't Let Them Disappear talks about rhinos, tigers, whales, pandas and more, and provides helpful tips on what we all can do to help prevent these animals from disappearing from our world entirely."
Evie and the Animals by Matt Haig. "Eleven-year-old Evie has a talent. A SUPERTALENT. A talent that can let her HEAR the thoughts of an elephant, and make friends with a dog and a sparrow. The only problem is, this talent is dangerous. VERY dangerous. That's what her dad says."
If Thunberg doesn't win the Nobel Peace Prize in the next few years for her efforts, I'll be very surprised.
Tags:
books
global warming
Greta Thunberg
lists
by Jason Kottke at August 12, 2019 06:21 PM
I read a short poem by Wendell Berry this morning called Questionnaire that has relevance to some of the things our society and culture have been chewing on over the past few years. The last two stanzas read:
4. In the name of patriotism and
the flag, how much of our beloved
land are you willing to desecrate?
List in the following spaces
the mountains, rivers, towns, farms
you could most readily do without.

5. State briefly the ideas, ideals, or hopes,
the energy sources, the kinds of security,
for which you would kill a child.
Name, please, the children whom
you would be willing to kill.
Questionnaire is from Berry's 2009 collection, Leavings. (via fave 5)
Tags:
poetry
Wendell Berry
by Jason Kottke at August 12, 2019 04:18 PM
Nolla is a zero-waste restaurant in Helsinki, Finland.
At Nolla there is no waste bin in the kitchen nor can you find any single use plastic in the restaurant either. No produce wrapped in plastic, no cling film, no vacuum bags. Every detail from staff clothing and napkins to tableware has been thought of. Even the gift cards are made of compostable paper that has poppy seeds in them.

We don't produce waste nor do we cook from waste.

We work directly with suppliers to rethink, reject and control packaging while at the same time sourcing local and organic produce, which are the core of our menus.
See also WastED, a pop-up series conceived by Blue Hill's Dan Barber where dishes on the menu were made of so-called waste food.
And if you would like to use less plastic in your own home, Trash Plastic offers a bunch of tips to make that happen.
Tags:
food
recycling
restaurants
by Jason Kottke at August 12, 2019 02:09 PM
August 06, 2019
My newest article for acmQueue magazine is called Demo Data as Code: https://queue.acm.org/detail.cfm?id=3355565
by Tom Limoncelli at August 06, 2019 06:45 PM
August 05, 2019
Hey, just a short note to say that kottke.org won't be published this week. This is the first break in publishing the site since…well, I don't really know. Maybe 5 years? Or even 10? I had a guest editor last week (thanks Patrick!) but this feels like a good time for a break break. Your regularly scheduled information & nonsense will resume on August 12.
Tim will be sending out an installment of the Noticing newsletter this Friday, so make sure to sign up for that if you're not already on board.
And me? I'm on a LA-to-Portland road trip. I'll share my adventures from the trip when I get back, but for now you can follow along on Instagram (especially via Stories). So, far, it's been pretty fun + interesting.
Tags:
kottke.org
by Jason Kottke at August 05, 2019 06:20 PM
August 04, 2019
Like many of you, I read the news of a single person killing at least 20 people in El Paso, Texas yesterday and another person killing at least 9 people In Dayton, Ohio early this morning. While these are outrageous and horrifying events, they aren't surprising or shocking in any way in a country where more than 33,000 people die from gun violence each year.
America is a stuck in a Groundhog Day loop of gun violence. We'll keep waking up, stuck in the same reality of oppression, carnage, and ruined lives until we can figure out how to effect meaningful change. I've collected some articles here about America's dysfunctional relationship with guns, most of which I've shared before. Change is possible — there are good reasons to control the ownership of guns and control has a high likelihood of success — but how will our country find the political will to make it happen?
An armed society is not a free society:
Arendt offers two points that are salient to our thinking about guns: for one, they insert a hierarchy of some kind, but fundamental nonetheless, and thereby undermine equality. But furthermore, guns pose a monumental challenge to freedom, and particular, the liberty that is the hallmark of any democracy worthy of the name — that is, freedom of speech. Guns do communicate, after all, but in a way that is contrary to free speech aspirations: for, guns chasten speech.

This becomes clear if only you pry a little more deeply into the N.R.A.'s logic behind an armed society. An armed society is polite, by their thinking, precisely because guns would compel everyone to tamp down eccentric behavior, and refrain from actions that might seem threatening. The suggestion is that guns liberally interspersed throughout society would cause us all to walk gingerly — not make any sudden, unexpected moves — and watch what we say, how we act, whom we might offend.
We're sacrificing America's children to "our great god Gun":
Read again those lines, with recent images seared into our brains — "besmeared with blood" and "parents' tears." They give the real meaning of what happened at Sandy Hook Elementary School Friday morning. That horror cannot be blamed just on one unhinged person. It was the sacrifice we as a culture made, and continually make, to our demonic god. We guarantee that crazed man after crazed man will have a flood of killing power readily supplied him. We have to make that offering, out of devotion to our Moloch, our god. The gun is our Moloch. We sacrifice children to him daily — sometimes, as at Sandy Hook, by directly throwing them into the fire-hose of bullets from our protected private killing machines, sometimes by blighting our children's lives by the death of a parent, a schoolmate, a teacher, a protector. Sometimes this is done by mass killings (eight this year), sometimes by private offerings to the god (thousands this year).

The gun is not a mere tool, a bit of technology, a political issue, a point of debate. It is an object of reverence. Devotion to it precludes interruption with the sacrifices it entails. Like most gods, it does what it will, and cannot be questioned. Its acolytes think it is capable only of good things. It guarantees life and safety and freedom. It even guarantees law. Law grows from it. Then how can law question it?
Roger Ebert on the media's coverage of mass shootings:
Let me tell you a story. The day after Columbine, I was interviewed for the Tom Brokaw news program. The reporter had been assigned a theory and was seeking sound bites to support it. "Wouldn't you say," she asked, "that killings like this are influenced by violent movies?" No, I said, I wouldn't say that. "But what about 'Basketball Diaries'?" she asked. "Doesn't that have a scene of a boy walking into a school with a machine gun?" The obscure 1995 Leonardo Di Caprio movie did indeed have a brief fantasy scene of that nature, I said, but the movie failed at the box office (it grossed only $2.5 million), and it's unlikely the Columbine killers saw it.

The reporter looked disappointed, so I offered her my theory. "Events like this," I said, "if they are influenced by anything, are influenced by news programs like your own. When an unbalanced kid walks into a school and starts shooting, it becomes a major media event. Cable news drops ordinary programming and goes around the clock with it. The story is assigned a logo and a theme song; these two kids were packaged as the Trench Coat Mafia. The message is clear to other disturbed kids around the country: If I shoot up my school, I can be famous. The TV will talk about nothing else but me. Experts will try to figure out what I was thinking. The kids and teachers at school will see they shouldn't have messed with me. I'll go out in a blaze of glory."

In short, I said, events like Columbine are influenced far less by violent movies than by CNN, the NBC Nightly News and all the other news media, who glorify the killers in the guise of "explaining" them. I commended the policy at the Sun-Times, where our editor said the paper would no longer feature school killings on Page 1. The reporter thanked me and turned off the camera. Of course the interview was never used. They found plenty of talking heads to condemn violent movies, and everybody was happy.
Jill Lepore on the United States of Guns:
There are nearly three hundred million privately owned firearms in the United States: a hundred and six million handguns, a hundred and five million rifles, and eighty-three million shotguns. That works out to about one gun for every American. The gun that T. J. Lane brought to Chardon High School belonged to his uncle, who had bought it in 2010, at a gun shop. Both of Lane's parents had been arrested on charges of domestic violence over the years. Lane found the gun in his grandfather's barn.

The United States is the country with the highest rate of civilian gun ownership in the world. (The second highest is Yemen, where the rate is nevertheless only half that of the U.S.) No civilian population is more powerfully armed. Most Americans do not, however, own guns, because three-quarters of people with guns own two or more. According to the General Social Survey, conducted by the National Policy Opinion Center at the University of Chicago, the prevalence of gun ownership has declined steadily in the past few decades. In 1973, there were guns in roughly one in two households in the United States; in 2010, one in three. In 1980, nearly one in three Americans owned a gun; in 2010, that figure had dropped to one in five.
A Land Without Guns: How Japan Has Virtually Eliminated Shooting Deaths:
The only guns that Japanese citizens can legally buy and use are shotguns and air rifles, and it's not easy to do. The process is detailed in David Kopel's landmark study on Japanese gun control, published in the 1993 Asia Pacific Law Review, still cited as current. (Kopel, no left-wing loony, is a member of the National Rifle Association and once wrote in National Review that looser gun control laws could have stopped Adolf Hitler.)

To get a gun in Japan, first, you have to attend an all-day class and pass a written test, which are held only once per month. You also must take and pass a shooting range class. Then, head over to a hospital for a mental test and drug test (Japan is unusual in that potential gun owners must affirmatively prove their mental fitness), which you'll file with the police. Finally, pass a rigorous background check for any criminal record or association with criminal or extremist groups, and you will be the proud new owner of your shotgun or air rifle. Just don't forget to provide police with documentation on the specific location of the gun in your home, as well as the ammo, both of which must be locked and stored separately. And remember to have the police inspect the gun once per year and to re-take the class and exam every three years.
Australia's gun laws stopped mass shootings and reduced homicides, study finds:
From 1979 to 1996, the average annual rate of total non-firearm suicide and homicide deaths was rising at 2.1% per year. Since then, the average annual rate of total non-firearm suicide and homicide deaths has been declining by 1.4%, with the researchers concluding there was no evidence of murderers moving to other methods, and that the same was true for suicide.

The average decline in total firearm deaths accelerated significantly, from a 3% decline annually before the reforms to a 5% decline afterwards, the study found.

In the 18 years to 1996, Australia experienced 13 fatal mass shootings in which 104 victims were killed and at least another 52 were wounded. There have been no fatal mass shootings since that time, with the study defining a mass shooting as having at least five victims.
From The Onion, 'No Way To Prevent This,' Says Only Nation Where This Regularly Happens:
At press time, residents of the only economically advanced nation in the world where roughly two mass shootings have occurred every month for the past eight years were referring to themselves and their situation as "helpless."
But America is not Australia or Japan. Dan Hodges said on Twitter a few years ago:
In retrospect Sandy Hook marked the end of the US gun control debate. Once America decided killing children was bearable, it was over.
This can't be the last word on guns in America. We have to do better than this for our children and everyone else whose lives are torn apart by guns. But right now, we are failing them miserably, and Hodges' words ring with the awful truth that all those lives and our diminished freedom & equality are somehow worth it to the United States as a society.
Tags:
guns
USA
by Jason Kottke at August 04, 2019 02:43 PM
August 02, 2019
Well this was fun! I'm not sure to which degree readers realize how much work goes into a week of kottke.org, and I'm sure Jason has a number of habits and a flow to things but wow! It's an occasion to discover things hour after hour and find out what readers enjoy, but it is a lot of work. Hats off to you Jason.
I hope you enjoyed what I shared here this week. I encourage you to have a look at my newsletter Sentiers. Check out the archives and subscribe to keep up with where my curiosity takes me.
In case you missed them the first time around, and perhaps to give you a better idea of what usually draws my attention for Sentiers, here are some favorites from what I posted over the last few days, written as an homage to Tim Carmody's style in the Kottke newsletter.
There's a kind of superpower in walking, which is also a good way of encouraging serendipity, you might even find things like these storefronts in Tokyo. Much of my life and career was made possible by reading. I've never been to a desert library but I do have ghosts on my shelves. With books you can create futures by inventing utopias, and you can draw lessons from them, like cautionary tales from Frankenstein's Monster or the many teachings of the great Ursula K. Le Guin.
(Header image, Mountain House in Mist / Shulin Architectural Design.)
Tags:
writing
by Patrick Tanguay at August 02, 2019 08:15 PM
Since it's quite hard to study the sun, "a team of researchers decided to try to re-create the sun's magnetic field structure in a ball of plasma in their laboratory." Although the conditions were obviously quite different and their model incomplete, they did manage to delve deeper into how the magnetic field of the sun works and how our star's plasma flows through it.
The sun's magnetic fields form enormous loops that extend from the sun's surface into space. Some of these loops are small enough to fit entirely within the sun's corona, while others stretch to the edges of the solar system.
The experiment was also able to mimic a region around the sun where the plasma hangs in a precarious balance. Within this boundary, plasmas are contained by magnetic fields, but outside it, centrifugal forces from the sun's rotation overpower the magnetic fields, and plasmas stream outward. The researchers found that "if you spin [the plasma] hard enough, you can get it to spin out from centrifugal force."
Note: The image up top is an image captured from the video in the article, make sure to click through and admire.
Tags:
astronomy
by Patrick Tanguay at August 02, 2019 07:30 PM
We often talk about the damage we are doing to nature, and as often about the catastrophes this is bringing across the globe. And well we should. But we have to also remember that even when it looks enraged, nature is also worth our admiration. Mike Oblinsky gives us a good opportunity for this with his Vorticity 2 film.
For seven and a half minutes massive clouds tear through open skies across plains and mountain ranges, rainbows brighten the calm after the storms, and sheets of rain obliterate horizon lines.
Tags:
weather
by Patrick Tanguay at August 02, 2019 06:35 PM
Amidst all the calls for more ethics and considerations for social issues on the part of tech companies, this looks like quite an interesting and innovative way of approaching the problem. This review of the book Frankenstein: Annotated for Scientists, Engineers, and Creators of All Kinds gives a good overview of the contents and thinking.
The critical essays accompanying the text are eclectic, cross-disciplinary, and incisive, and they include contributions from beyond the academy, such as the essays by science fiction authors Elizabeth Bear and Cory Doctorow.
Using the novel as a canvas on which to think through contemporary issues.
These annotations often raise novel questions about technology and society, extrapolating from the technological conditions suggested by the novel into terms that might emerge today, alongside the more usual role of explanatory footnotes in a student text.
Mary Shelley wrote Frankenstein's Monster in another time of technological transition, the Industrial Revolution.
It is an important part of what gives "Frankenstein" its enduring hold on our contemporary imagination: Both the novel and the cultural icon derive their special pathos from what Heather E. Douglas's critical essay shrewdly calls the "bitter aftertaste of technical sweetness"—tragedy set in the distinctly modern conditions of secular science and technology.
The piece and the book it refers also cover how Shelley's work is regarded by many as the first work of science-fiction and how it was made possible not only by her great talent but also her education. She studied the humanities—literature, philosophy and classics, as well as the science of the day. Today these two aspects of education are often times presented as opposites, and in some kind of fight, where on the contrary they need to coexist and feed from each other. It's something that more and more people realize and integrate in their teaching, planning, and hiring but which is still regularly disregarded in many technology circles.
From Elizabeth Bear's essay, this sounds familier:
Victor, she says, is morally culpable for not taking responsibility for his creation and for his refusal to acknowledge his responsibility because he cannot see it for what it is. He runs away from it and refuses to engage with it. He refuses to engage with the creature and flees, and he does so because he is not able to see its essential nature, its needs and his part in their fulfilment—and that, Bear says, is on account of his monstrous "narcissism, this inability to engage with other creatures" as creatures like himself.
And brings two kinds of cautionary tales, both very much worthy of deeper reflection and of today's challenges:
We can thus discern two kinds of cautionary tales in "Frankenstein" (there are others): one Miltonian and the other Promethean. The former is a warning to "creators"—scientists, engineers and what this new edition of "Frankenstein" calls "creators of all kinds"—of the risks of hubris: reaching to exercise knowledge and powers that are not fully understood, whose consequences cannot be predicted and which cannot be controlled. The latter, however—the Promethean—is a warning to these same creators that, when they *do* exercise that knowledge and power, they must be willing to take responsibility for the things they create, for the work of their hands, which is what Prometheus did and what Victor failed to do. [Emphasis mine.]
(Via Stuart Candy.)
Update: Sam Arbesman (who write a mean newsletter) sent me Frankenbook, an open access version of the book referenced above. It's powered by PubPub which you should also check out.
Tags:
books
technology
by Patrick Tanguay at August 02, 2019 05:39 PM
August 01, 2019
Playlist from Gateway to Joy with Donna on WFMU, from Aug 1, 2019
July 31, 2019
If you do not stay home with kids, you'll be annoyed to hear all the benefits of watching kids, because people don't really care about what benefits could be gained. We care about what we could lose. This is true for everyone: Consumers, liars, straight-A students. Working moms.
This is why people love to talk about what they could lose by staying home with kids. The discussion often gets extreme — death by boredom! — but most people will say they lose interestingness, self-actualization, and respect from other people.
But I don't think we gain any of these things from work. And pretending that work provides those benefits makes finding a good job impossible, and it makes staying home with children feel impossible as well.
Interestingness
People do not get paid to solve interesting problems and learn new things all the time. That's a perfect, heavenly job, so why would you need to be paid? You get paid to work on teams you didn't choose, and toe the line for an executive board you don't agree with, and make products that have no intrinsic meaning.
Interesting people are interested, no matter what they do all day. If you are interested in ideas you'll think about them. If you're interested in people you'll connect with them. You don't need work to do that — and it probably would just get in the way.
Self-actualization
Living up to your potential is a terrible goal. People who grow up thinking they are gifted feel pressure to perform in a way that leads to having the most unhappy adult lives. Free yourself from the idea that people are in a horse race and everyone has a scouting report.
The truth is that the only people who have a ton of potential in the workplace are people who will give up everything else for work. That's about 5% of people. Everyone else sees their career start to flatline at age 30 or 35 and then tank. But our level of self-actualization goes up as we age. And our sense of wellbeing peaks at the time of life we are least likely to be focused on career.
So self-actualization and career are not particularly related. Self-actualization is much higher on the Maslow hierarchy than winning a gold star or getting a big raise.
Respect from other people
OK. This is where you are really lying to yourself. You do not want respect from people with terrible careers. You want respect from people who have great careers. And people with great careers avoid the mid-life plateau by making work a higher priority than family. If you were able to do that you would have read the headline of this post and clicked delete.
By the time everyone is 35, we can see who is going to be at the top and who isn't. You will have made a mark. You will have been working very, very hard. You will be ruthlessly climbing to the top of your field. If you have not done that from age 0-35 then you are not giving up the opportunity to do that from 35 on. Because you are not that kind of person who does that.
Adults do not get respect because they have a high IQ or high ambition. At some point, it only matters what you've done and who you've loved. Respect is hard to come by unless you give it to yourself.
And, in fact, you provide your own interestingness and your own self-actualization as well. It's hard, for sure, but you don't need a job or permission from other people. It's way easier to punt on interestingness/self-actualization/respect and say you couldn't get them because you stayed home with kids.
Don't do that.
To be our best selves involves being free of self-criticism, jealousy, and regret. I don't know anyone who has achieved that. Because it's very distracting to have to take care of kids. Or go to work.
The post What do you lose if you stay home with kids? appeared first on Penelope Trunk Careers.
by Penelope Trunk at July 31, 2019 08:36 PM
July 26, 2019
Here is a crossover between my IT Skeptic "life" and my Teal Unicorn life. We made a video about Vietnamese traffic, and how it is a great example of how one would like work to flow, to self-organise. Enjoy.
by skeptic at July 26, 2019 01:27 AM
July 23, 2019
You see James on the 8th-floor cafeteria. You haven't seen him in weeks which is fine because while you've worked together for years, your paths are currently not intersecting.
"Hey, James."
"Hey! Long-time, I was just thinking about you."
"Really, why?"
"Randy just called you out in the launch meeting. He said the project was a month behind. Everything ok?"
In your head, before James reaches the end of his statement, you can already feel the response. It's not the emotional reaction to Randy calling you out, and it's not the product implications of a month delay. It's a feeling that you've seen this precise situation before and you know precisely how it will play out… but it's still a feeling.
I'm talking about spidey-sense.
Understanding Spidey-Sense
Spidey-sense is real-time wisdom. You build wisdom though experiences, small and large. These experiences left you with impressions, opinions, and lessons. These experiences are shared with humans and their differences of opinion from nuanced to shocking. However, these differences expand your understanding and teach you lessons. Their approach, attitude, emotion, and words. You observe it all, continue to learn, and carefully index and file away the lessons.
As this corpus of knowledge grows, your brain discovers delicious patterns. When this situation X occurs, I often observe that resulting situation Y, weirdly, always happens a month later. Huh. These collected, observed patterns compile nicely into judgment.1 Over time and with practice, you become comfortable with rendering a considered decision based on this judgment when presented with a situation. You can explain and defend your reasoning because you've seen this situation 42 times. You've seen these types of humans act in this situation, and you understand possible outcomes. Your decision is defensible. You can clearly explain it. Are you right? Sometimes. Only time will tell, but in either case, you observe the results and impact of your decision, learn, and the cycle repeats.
The prior two paragraphs are the primary reason that universities don't offer substantive degrees in leadership. Most of the essential skills required to be an effective leader are acquired and built by deliberately experiencing the seemingly infinite canvas that is the workday… for years.
Wait, what? That's the Advice? Live Life? Thanks, Rands.
Hold on.
Spidey-sense is real-time wisdom. At some point in collecting experiences, lessons, observations, people, personalities, and words, you'll begin to apply this pattern matching process instinctively… all the time. More so in leadership, because you have access to more information and will be required to use that information to make large critical decisions quickly… all the time.2
Spidey-sense is not paranoia. They're related, and often spidey-sense is the reason a human becomes paranoid, but paranoia is fueled by fear. It's an impending sense of doom that one can not control. Spidey-sense is a sudden question in the back of your brain, Wait, what?
Spidey-sense is a hunch discovered when you're tasting soup. It's your experience speaking… loudly. A moment of inspiration. Of intuition. It feels like magic because the insight arrives instantly appears out of nowhere, and that's why you should trust it.
Trusting Spidey-Sense
At a prior gig, we saw unexpected attrition. The company was growing at a nice clip; our outlook was rosy, but every month there was regretted unexpected attrition. As these humans left, we asked them why they were leaving, and confusingly we could not discover a pattern.
After three months, I started a spreadsheet and titled it "Spidey-Sense." At my staff meeting, I explained:
"This is the spidey-sense spreadsheet. If something about someone who works with you seems off. I want to you add them to this spreadsheet. Don't think about it. Just add them. Reasons are optional. We'll review them each week.
Their stares. They were blank.
"Do you suspect burnout? Add them. Are they consistently missing 1:1s? Add them. Is something just not right? Add them."
Three names were added that week — two with good reasoning. The third's explanation was blank. The reasoning: Something is up, and I don't know what.
The following week one more was added sans explanation, and the prior third had more color. She's bored. I can just sense it. Ok, bored we can work with.
We maintained the Spidey-sense spreadsheet for six months. In time, all new additions were paired with an explanation because we slowly developed a language around intuition. We started to see the intricate patterns of burnout, boredom, personality clashes, and other performance issues. Many humans on this list were removed with no action on our part. Spidey-sense proved wrong. However, the majority of the employees we added to that spreadsheet captured early warning signs and were crucial to proactively acting rather than reactively damage-controlling. Yes, many humans still left the company, but they did so in plain sight. There were fewer surprises.
Something is Up, and I Don't Know What
Spidey-sense is a feeling. It's why we don't initially trust it because leadership is a well-defined set of concrete principles you follow to maximize you and your team's effectiveness.
Gross. Wrong. Yuck. Ok, there's truth in those dull words. Do choose a set of principles and do demonstrate them via your behaviors. However, speaking as a leader of many years, leadership is equal parts following a well-defined set of principles and making split-second decisions in the heat of battle with little to no actual information.
Spidey-sense is a feeling. You might be hesitant to heed it because you can't tell where it came from. You might attempt to ignore it because the difference between a feeling inspired by hard-earned wisdom and one inspired by an irrational emotion feel the same. They aren't, but the only way you're going to learn the difference is by first listening then acting.
by rands at July 23, 2019 04:06 PM
July 21, 2019
The #MeToo movement has focused on workplace harassment, and I keep thinking: when will #MeToo include domestic violence? I try to imagine what it will look like so I can help make it come faster.
Workplace law only recently caught up with women's experience
Twenty years ago laws were useless in the fight against sexual harassment and domestic violence. The courts added teeth to laws preventing workplace discrimination, and the #MeToo movement followed shortly after those changes. But the laws governing domestic violence remain as useless as ever.
In 1991, courts ruled that victims of discrimination could win punitive damages for harassment, which allowed for large winnings. In 1998, courts ruled that companies were responsible for not stopping sexual harassment. But it took another 20 years for courts to define hostile work environment and retaliation so victims had language to talk about their experience. After 2010, lawyers represented women in workplace harassment cases on a contingency basis knowing they had access to corporate funds in a settlement.
The legal system is useless for domestic violence
But there's no money in domestic violence cases because there's no big company to sue for negligence, so this law gets tested at a much slower pace than employment law.
Without the financial winnings, lawyers have little incentive to take the case on contingency. Even if a woman does have the financial means to sue, most states don't allow family members to sue each other, perpetrators torture their victims in court, and winning a court-ordered restraining order or conviction is one of the most reliable indicators that the victim will soon be killed.
So domestic violence cases end up in the hands of the district attorney, which makes the DA one of the most powerful people in the fight against domestic violence. This situation is not good.
The DA's job is to prosecute cases that most benefit the public interest, and DAs dislike prosecuting domestic violence cases. These cases are extremely complicated and time consuming, and often the public has little empathy for domestic violence victims; it's difficult to understand why a woman stayed if the violence was really that bad.
So both women and district attorneys think it's not worth the trouble to prosecute domestic violence. This means there is little public discourse about domestic violence. It happens in private and it stays private.
Lack of language is always accompanied by lack of power
The #MeToo movement, on the other hand, takes sexual assault out of the private arena and gives us a common language to understand our experience. The #MeToo movement is about clarifying what sexual assault looks like by talking about it. And the more we clarify language, the more likely women are to come forward and talk.
One of the great moments of the #MeToo movement was when Taylor Swift testified against a guy who assaulted her. The testimony is amazing because Taylor puts words to events that happen all the time. She takes control of the language of sexual assault. Everyone cheered.
Taylor Swift did not sue for money, and the perpetrator had already lost his job. Her case is another type of legal action a woman can take — not looking for financial reward, or vengeance, but rather to make sure men don't keep getting away with this behavior. But you need to have money to do that.
The #MeToo movement is fueled, in part, by women who stayed quiet about workplace harassment until they gained power, and then the women used their power to bring attention to #MeToo. Taylor Swift is a great example of using her power and money to show women how to take down a perpetrator.
Another way #MeToo has transformed society is by bringing women together. The movement was born in social media, and social media enables women to find safety in numbers. Cases against Harvey Weinstein, Larry Nassar, and Jeffrey Epstein are strong because there are so many women telling the same, horrific story.
At best, the #MeToo movement sheds stark light on the isolation of victims of domestic violence. Domestic violence doesn't allow the victim to keep quiet while she gains power because, more than workplace harassment, domestic violence precludes the buildup of power. And domestic violence rarely involves more than one victim at a time, so the victim could not find the solace of safety in numbers.
We are in desperate need of the #MeToo corollary for domestic violence. We need laws that protect women from getting killed after they press charges. We also need a language for victims of domestic violence to describe their experience. We need to define the invisible violence of terror. We need to quantify the damages from the epigenetics of violence. And we need language to describe the illusion of love that makes the victim stay and stay until she's dead.
The post The reason there's no #MeToo for domestic violence appeared first on Penelope Trunk Careers.
by Penelope Trunk at July 21, 2019 01:09 AM
July 15, 2019
Was the root cause of the O2 outage really an expired certificate?
Why wasn't the "root cause" any of these?
Certificate expiration not monitored
Certificate renewal process complex so that everyone hopes someone else fixes it
Certificate renewal is so rare, we aren't good at doing it
Deploying new certificates manual and error-prone
Vendor did not document all periodic maintenance requirements
Soon-to-expire certs not logged
Logging for each component an island onto itself
The reason, dear reader, is that there is no such thing as a single "root cause". There are only contributing factors.
When will the industry learn?
by Tom Limoncelli at July 15, 2019 10:46 PM
Cheers to my coworker Taryn for her blog post about how she did an extremely complex series of 30 Microsoft SqlServer upgrades.
If you've seen the film "Apollo 13", there's a scene where they have to get something right in the simulator before they can do it in space. That's basically what she had to do.
Read the post here: How we upgraded Stack Overflow to SQL Server 2017
Here's some takeaways:
Set up a lab environment to test complex changes.
Communicate with your users.
Write a detailed playbook.
Don't do it alone.
Ask for help from all over.
Keep a lab notebook.
Record it for posterity!
I'm super proud to have people like Taryn on our SRE team at Stack Overflow!
(Would you like to work with awesome people like Taryn? We're have many of open positions including a west-coast (US/Pacific or compatible) Cloud/Azure SRE, an Internal IT Support Engineer (remote or NYC), and a Junior Technology Concierge Help Desk (London))
by Tom Limoncelli at July 15, 2019 10:39 PM
July 14, 2019
How much nice is too much?
by skeptic at July 14, 2019 09:58 AM
July 09, 2019
You've also stayed away because you've discovered how easy it is to cut her loose, how little you actually miss her
by rachel at July 09, 2019 11:59 PM
July 07, 2019
I am done. Your grief will be useful some day, says no one.
by rachel at July 07, 2019 11:56 PM
The mighty 20th episode. Lyle's thinking about becoming a manager and Lopp has thoughts. It's a job with infinite variables, strange feedback loops, and endless decisions. Also, it'll take three years minimum to become competent.
Enjoy it now or download for later. Here's a handy feed or subscribe via Overcast or iTunes.
https://traffic.libsyn.com/rands/theimportantthing0020.mp3
by rands at July 07, 2019 03:08 PM
July 06, 2019
All you people do, wherever you are in this world, is just bring death and destruction, you bring nothing good, nothing good
by rachel at July 06, 2019 11:55 PM
July 01, 2019
Yesterday after my riding lesson, Jeremy, Claire and I went out to Devil's Teeth Bakery for the special breakfast sandwich (scrambled egg, avocado and bacon on a fresh biscuit). On the way back we visited the new house for some daydreaming. Liz lured me out to the dyke march. I arrived to find her twirling in the intersection at Valencia and 18th. We danced and chanted all the way to the Castro. It was a perfect San Francisco summer evening.
Today after my riding lesson, all four of us went to El Metate for fish tacos, and then to Bay Natives to buy eggs and admire the chickens and goats. We walked to the end of Heron's Head and saw a sea lion frolicking in the bay. We stopped on Cortland for iced coffee, rainbow macarons and groceries, and when we got home I found a parking spot right on the corner. Now my feet are up and my heart is full of peace.
by rachel at July 01, 2019 01:32 AM
---
Powered by Planet!
Last updated: August 23, 2019 05:00 AM